AMtech Announcement
2004 Product Line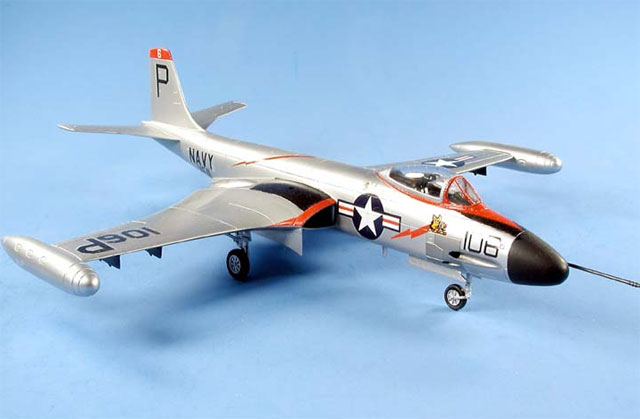 F2H-3/4 Banshee
Please note - images of models on this page are not test shots of future AMtech releases.
They are simply intended to illustrate the types of aircraft to be released


AMtech models are available online from Squadron.com
Alan Griffith, President of AMtech, has supplied the following information about the 2004 release program:

AMtech Models revealed its 2004 product line today at the Radio Control Hobby and Toy Association/International Model and Hobby Exposition, being held at the Rosemont Exposition Center, Rosemont, IL.

AMtech has moved into new scales with several aggressive product announcements. In addition, AMtech announced a new product line, AMtech Limited Gold. "The AMtech Limited Gold Series is designed for military aircraft that saw relatively limited production, and may or may not have seen combat. Our first release in this series, the F2H Banshee in 1/48th scale , featuring four versions in three separate releases, is the perfect subject to start this new series. We expect fairly limited numbers of kits to be produced, and I doubt we'll release any version more than once. The market just isn't big enough for it." Said Alan Griffith, AMtech president.

"This year has been the most challenging we've seen," continued Griffith. "Our expansion ran headlong into a lack of sufficient personnel to get everything done in a timely manner. We're dealing with that one on a constant basis. Each new product increases the work load geometrically, not arithmetically, and it has really been a pain.

"In addition, we have found there is a HUGE bottleneck in getting projects DESIGNED in a timely manner. Projects that we thought should take a maximum of six months to design have taken a year, and it only goes downhill from there." Griffith stated that 'we've spent most of the past four months re-organizing our whole new project development system, and identifying new sources of tooling. I know there will be new 'surprises' to deal with, but I'm pretty confident that we've taken care of our biggest headache in a very powerful manner."

AMtech's new announcements are:
1/32nd Scale
P-39 Series

P-400

P-39F

P39Q
---
1/48th Scale
AMtech
P-40BC
AMtech Limited Gold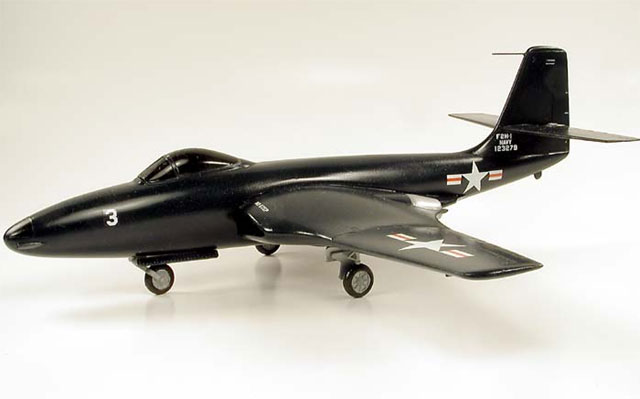 F2H Banshee Series

F2H-2 Banshee

F2H-2P/2N

F2H-3/4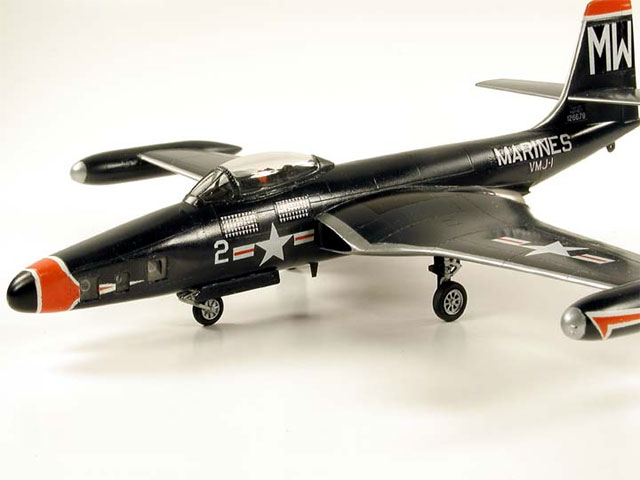 X-Kits by AMtech
(Only 3500 kits of each subject will be produced)
---


1/144th Scale
Limited production, only 3000 of each version will be produced.
Kits can include etched metal antennae and Black Box Resin "lumps and/or bumps."

Releases, in no particular order, are as follows:
KC-135A

RC-135V (early version, TF-33 engines, Martin "cheeks")

NKC-135A anti-radiation aircraft

KC-135E

NKC-135A "King Crow II" U.S. Navy aircraft

RC-135U

RC-135W (late version, CFM-56/F-108 engines, Esystems "cheeks")

EC-135 ARIA/ALOTS

KC-135R

NKC-135A "Big Crow"
"I've been building 1/144th kits for years, and love how I can have a whole shelf full of colorful aircraft - military AND civilian - in the space that one 1/72nd scale BUFF or KC-135 would take up," said Tom Bly, AMtech's Customer Communications guru. "The 135 in this scale is STILL bigger than a 1/48th scale Me-109. That's what this series is all about - making models of big aircraft in a scale small enough that they don't take over your house!"

If the KC-135 series sells well, AMtech has a VERY long list of really big aircraft that we can bring out in this smaller scale. "

---
AMtech models are available from good hobby shops and online retailers. For more information visit their website at http://www.amtechmodels.com
---
Text Copyright © 2003 by AMtech
Page Created 11 September, 2003
Last updated 11 September, 2003
Back to HyperScale Main Page
Back to Reviews Page