AV-8B Harrier II Plus
1/48 Scale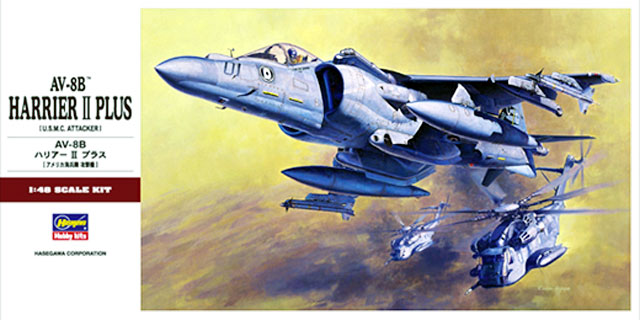 Hasegawa
S u m m a r y

Catalogue Number:
07228
Scale:
1/48
Contents and Media:
156 parts in grey injection moulded styrene; 10 parts in clear injection moulded styrene; 4 polythene caps; markings for two aircraft
Price:
¥2800
Review Type:
FirstLook
Advantages:
It's a new Harrier in 1/48 scale! Consistent, fine engraved panel detail; separate blow-in doors; optional gun pods or lateral strakes; positionable nozzles; separate speed brake; parts breakdown suggests more variants to be released later; good selection of stores; interesting decal sheet (including decal for explosive canopy cord)
Disadvantages:
Barely adequate cockpit detail; prominent seams on canopy parts; relatively complex fuselage breakdown to permit multiple variants; parts scuffed due to packing in single bag
Recommendation:
Recommended.
Reviewed by Brett Green


Hasegawa's 1/48 scale AV-8B Harrier II Plus will be available online from Squadron.com
Hasegawa continues its commitment to 1/48 scale jets with their brand-new 1/48 scale AV-8B Harrier II Plus.
It has been a long time since we have seen a new Harrier in 1/48 scale. Monogram's AV-8B is still a respectable model, but fans of the latest versions of the Harrier will be delighted to see this kit hit the streets.
Hasegawa's AV-8B Harrier II Plus comprises 156 grey injection moulded parts, with 10 additional parts in clear plastic. The grey styrene parts are presented in Hasegawa's typical shiny and slightly brittle plastic. Some of the larger parts in my kit have already been severely scuffed due to Hasegawa's habit of stuffing all the sprues into one plastic bag. Some sanding and polishing will be required prior to assembly.
Surface detail is by way of fine engraved panel lines. All the panel lines are fully formed and consistent.
Hasegawa seems to have planned this model to ensure a minimum of ejector pin marks. Indeed, the only imperfections I could find were some tiny ejector pin marks on one side of the Sidewinder bodies.
Click the thumbnails below to view larger images:
---
Kit detail is generally very good. Blow-in doors are supplied as separate parts, so they can be positioned either open or closed. The nozzles are connected via internal axles (using the ever-present poly caps), and may be swivelled into different positions on the completed model. The nozzles themselves are cleverly designed with the splitter plates moulded onto one interior half. A good selection of stores and options is supplied, including a pair of AIM-9L Sidewinders, 300 Gallon drop tanks, gun pods (or optional lateral strakes if these are not fitted) and an AN/AAQ-28 Litening II Pod. The all-flying horizontal stabilizers are each mounted via a single stout pin, so these parts may be positioned neutral, up or dropped.
The speed brake is moulded as a separate part that should be posed open when the Harrier is on the ground.
One area of disappointment is the cockpit, which is really not up to the standard of the rest of the kit. Side console, instrument panel and rudder detail is half-hearted at best. I expect it will not take the after-market too long to deliver a busier-looking resin replacement.
The clear parts are well shaped but suffer from a seam line along the entire centreline. This is an inevitable by-product of accurately moulding the bulged canopy and windscreen. Some careful scraping and polishing should rectify this problem. A nice touch is the inclusion of a pair of decals for the explosive cord in the top of the canopy.
Hasegawa's kit has obviously been engineered to permit the later release of virtually any current Harrier, including British and two-seater versions. This is great news, but it means that the fuselage in particular is quite a complex assembly. The nose is made up from two halves; followed by another pair of separate parts for the cockpit area; then the main fuselage with a left and right half but also requiring a separate belly part. The fin and fuselage strake adds another four parts. So that is a total of eleven parts just for the basic fuselage shape, not including the intakes and blow-in doors. Considering Hasegawa's erratic reputation for fit, extreme care should be taken when aligning and assembling these parts.
The wing is much simpler than the fuselage, but it is pleasing to see that the 100% LERX is separate, suggesting that a 70% LERX may be coming (Harrier GR.5 or early GR.7 perhaps).
Bumps, lumps, antennae, scoops and chaff/flare are all supplied as individual parts, reinforcing the likelihood of other variants from Hasegawa in the future.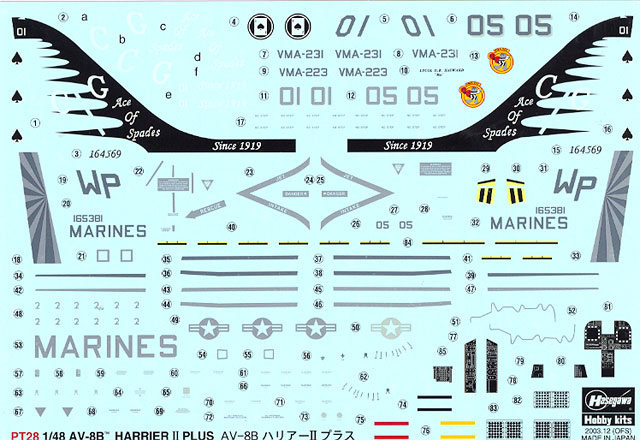 Decals are supplied for two interesting aircraft. My samples were in good register.
I am uncertain about the accuracy of the colour callouts (36230/36375/35237), which may not represent the current AV-8B Harrier II Plus greys. I am sure that this issue will be clarified on HyperScale's Plane Talking group in the coming days.
Hasegawa has cooked up their new 1/48 scale AV-8B Harrier II Plus using their tried and true, 25 year-old 1/48 scale jet model recipe. The Harrier is certainly a welcome addition to the range.
Hasegawa does seem to have heeded earlier comments about ejector pin marks and vague panel lines, as these aspects are much improved with this release. The stores options are great too. It would be nice to have seen a better detailed cockpit, but you can't have everything.
Judging from the breakdown of parts in this release, it looks like we might be seeing the whole modern Harrier family in 1/48 scale at some time in the future.
Now that is a family reunion I would like to attend!
Recommended.
---
Text and Images Copyright © 2004 by Brett Green
Page Created 09 January, 2004
Last updated 12 August, 2004
Back to HyperScale Main Page