1/72 scale resin kit review
Beriev Be-12 Chaika (NATO "Mail")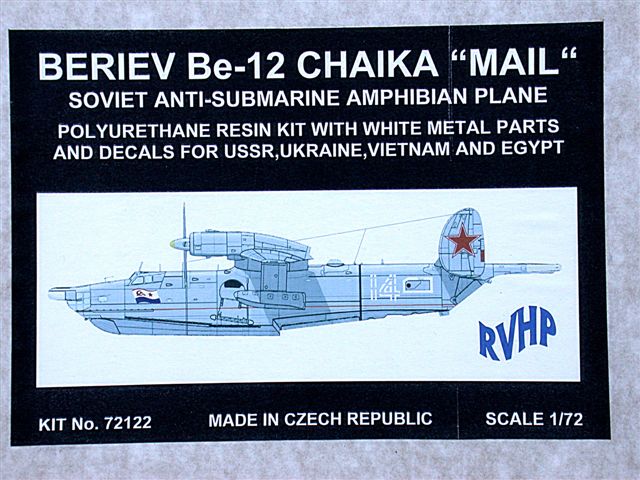 RVHP
S u m m a r y

Catalogue Number:
Kit 72122 - Beriev Be-12 Chaika (NATO "Mail")
Scale:
1/72
Contents and Media:
80 parts in injected grey styrene; 16 parts in cream-coloured resin; 3 clear parts; markings for three aircraft.
Price:
USD $140.00 (incl. U.S. shipping)
Obtained via mailorder from DMC Models (David Cooper)
Review Type:
FirstLook
Advantages:
Excellent moulding; pleasing "weirdness" factor; very clear vacform transparencies; lots of colourful decal options
Disadvantages:
Expensive; inadequate instructions; experience with multi-media kits will be required.
Recommendation:
Recommended to modellers with some experience working with short run kits.
Reviewed by "Bondo" Phil Brandt


HyperScale is proudly supported by Squadron.com
The "Weirdness Low Level" light had been glowing on the Bondo Industries instrument panel for a couple of weeks when good ol' David Cooper of DMC Models came to the rescue with the arrival of the latest and greatest from the Central Euro model elves at RVHP. That is, the long-lived Soviet turboprop amphibian, the Be-12 "Mail".

The Mail resulted from a mid-Sixties need for a dedicated anti-sub, search-and-destroy amphibian to replace the elderly Be-6 which had proved to be more useful as a reconnaissance platform. The first Be-12 prototype was completed in 1960, but a lengthy flight test program delayed quantity production until 1965. Although the number of operational Mails dropped off markedly with the dissolution of the Soviet Union and the introduction of the IL-38 anti-sub weapon system, this proven design has soldiered on in a variety of assignments: anti-sub, search and rescue, refuelling/weapons testbed, flying laboratory, and, most recently, fire fighting. The Mail is also used in the Ukraine, and export versions have shown up in Egypt and Vietnam.
Even in 1/72 this is a large airplane! With the exception of vacuformed cockpit and nose transparencies and the cast metal landing gear, this is an all-resin release.
Moulding
Without even noting the geographic location of the RVHP company, from the molding style and finish (VERY much like that of Planet Model releases) I would've guessed the Czech Republic, and I would've been correct. Components are exceptionally smooth and mostly flash-free; I could not find any warpage. The larger pieces (fuselage halves and wings) do have large casting spigots which can be easily removed with the trusty razor saw.
Many tiny components, and I do mean MANY) are cast as groups on wafer-thin sheets to prevent loss and for easy identification. Petite engraving is the equal of any of today's injected kits.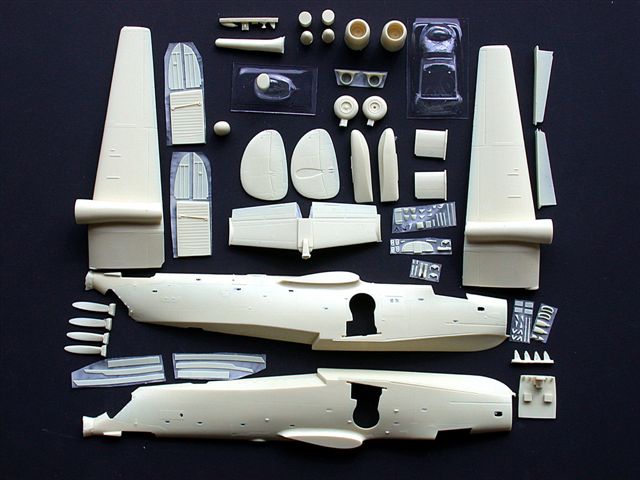 Click the thumbnails below to view large images:
---

Fuselage
The fuselage is produced in two hollow shells. Depending on specific location, wall thickness varies from 1/32" to 1/4" and has substantial vertical braces at each side of the main gear compartments. Many small window openings have the tiniest wisp of flash, but that's easily cleaned away with a sharp knife. Another nice feature of these window openings is that RVHP has thinned the wall thickness surrounding each opening down to a very realistic degree.
---

Wings
The Martin Marlin-like gull wings are monolithic castings (spigots are on the joining surface) which are integrated with the aft engine nacelles. No joining tabs or slots are provided, so you'll have to either butt-join them to the fuselage with epoxy, or, as this curmudgeon would recommend, drill mounting holes and uses brass rod to add strength. A convenient depressed mounting area on the bottom of each wingtip allows exact, seamless alignment of the outrigger sponsons.
---

Tail Surfaces
As with the wing sponsons, depressed mounting locations in the one-piece horizontal stabilizer allow the vertical fins to be mounted with minimal fuss, and the pre-filleted mounting flanges on the stabilizer are an especially nice touch. A step on the horizontal stab locates into an elongated notch in the empennage.
---

Engine / Props
Just looking at the long, slim turboprop nacelles and cowlings tells you this has to be a Soviet design! Cowlings are individual pieces (as mentioned above, the nacelles are part of the wing castings), each with a thin casting disk that will have to be sanded off the mounting surface, but then that's just another day at the office for resin devotees. Three separate airscoops are glued to each cowling/nacelle assembly. Two-piece spinners mount into concentric depressions in each cowling. There are no provisions for propeller shafts, so if you want the props to be movable, you'll have to align and drill your own holes. Individual prop blades have thin mounting disks--again, you'll have to trim away the small casting spigots--which mount into depressed circles in each spinner. This makes for an alignment no-brainer and gives the realistic disk which stands proud of the spinner surface, just like the real thing.
---

Landing Gear
Each main landing gear well is made of three pieces which then are glued to the the inside of each fuselage half. The characteristic spindly-looking amphibian gear struts are multipiece, cleanly-cast metal assemblies with nicely petite gear doors. The one-piece aft gear--this is a taildragger--is also of cast metal, and fits into a separate mounting bulkhead. A separate geardoor cover is included. All wheels are resin.
---

Interior
The cockpit is made up of many little resin pieces: floor, seats (no seatbelts), yokes, console, instrument panel and rudder pedals. In a 1/72 aircraft, especially one with minimal clear overhead panels, the lack of intricate details ala Black Box is, IMO, no big deal. Just aft of the wing trailing edge is a clear, teardrop-shaped observation dome, beneath which is a rudimentary floor and seat. This is one location that could probably use a PE seatbelt.
---

Clear Parts
The nose section, cockpit canopy and observation dome are vacuformed out of thick plastic. These parts are very clear, and details are sharp. The nose section has a factory bonded section of resin inside the tip which serves as a base for attaching the radome. There are no spares; for such an expensive release, I think it's not too much to ask that RVHP include same. And, there are no transparencies for the eighteen small windows! Apparently your choices are: use Krystal Klear or equivalent liquid media, or thin the countersunk wall thickness around each window even more than stock, and glue thin clear sheet behind the cut-outs.
---

Decals
Lots of colorful markings choices here: Soviet, Ukraine, Egyptian and Vietnam! The decals are thin, and registration is dead on.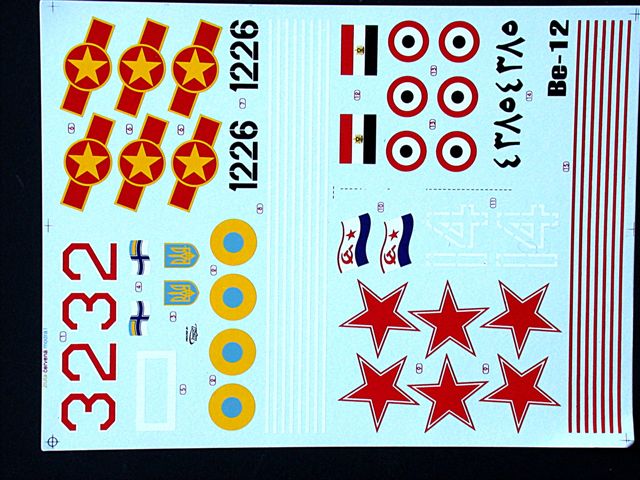 Because the Mail was often finished in dark gray, and since the Vietnam version has sharply delineated cammo areas, I hope the markings, especially the whites, are not translucent.
---

Instructions
Perhaps my tech writing years at Big Blue are showing, but this is the one area of the kit that needs work, and David Cooper promises that he'll relay this complaint to the movers and shakers at RVHP. Two no-text, B&W, 8 1/2" x 11" pages, printed on both sides, suffice for the whole shootin' match! There are so many tiny parts that the very small three-view diagram pointing out their locations is simply inadequate, even for experienced modelers. If I didn't already have the excellent International Air Power Review (Vol. 4, Spring 2002) Be-12 feature article as reference, I'd be guessing in some instances. At least there's a diagram of each small parts casting sheet to show part numbers. Assembly instructions are simple exploded parts diagrams which, although not great, are sufficient. Soviet, Ukraine and Egyptian colors and markings are shown in separate, medium size three-views, all on one page; the Vietnam cammo scheme and color call-outs are shown on one entire page.





I really like this exotic, albeit expensive, release; as many of you HS brethren are aware, Bondo Industries employees would rather have one kit such as the Be-12 on the production line than a whole Staffel of cookie-cutter 109s! RVHP has scheduled two additional Mail versions for release, including the firefighter.

Recommended for experienced Soviet fans.
---
Review Text Copyright © 2005 by Phil Brandt
Images Copyright © 2005 by Brett Green
Page Created 05 January, 2005
Last updated 08 March, 2005
Back to HyperScale Main Page
Back to Reviews Page