Early Messerschmitt Bf 109s
Bf 109 V4, V5, A & B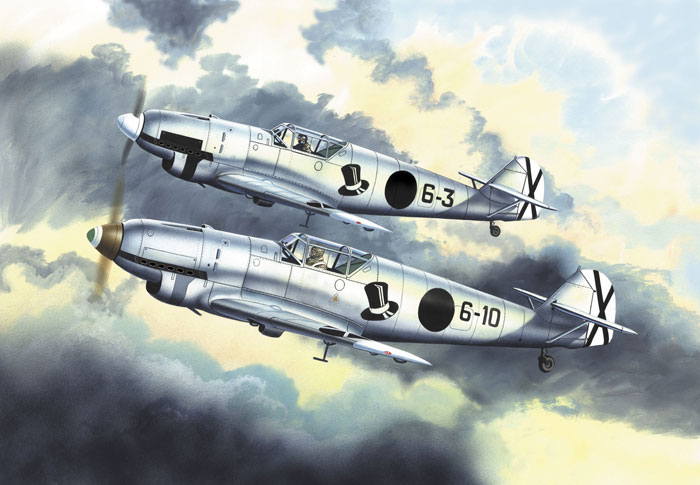 Classic Airframes
S u m m a r y

Catalogue Number:
4123 - Messerschmitt Bf 109 A (Bf 109 V4, V5, A and B)
Scale:
1/48
Contents and Media:
35 parts in grey styrene; 22 parts in grey colored resin; photo-etched fret; 3 clear injection molded parts; printed clear acetate sheet (instruments); instructions; decal sheet and painting guide for six aircraft (plus bonus decals for one more in two different markings).
Price:

MSRP USD$

40.00

Review Type:
FirstLook
Advantages:
Without question the best injection plastic early (Jumo) 109 in any scale; accurate; excellent surface detail including crisply recessed panel lines, very high quality plastic moulding; impressively detailed resin parts; includes plenty of parts options; separately packed clear, photo-etched and resin parts; thin, three-part canopy; interesting and varied marking choices.
Disadvantages:
Some modelling experience helpful for preparing resin parts
Recommendation:
Highly Recommended
Reviewed by Brett Green
Classic Airframes' 1/48 scale Messerschmitt Bf 109 A is available online from Squadron
Although modellers have a great selection of Messerschmitt Bf 109E, F, G and K kits, the situation has been fairly grim for fans of the early Jumo powered prototypes and early production models.
Hobbycraft's 1/48 scale kits are widely available and inexpensive, but they are seriously flawed in terms of accuracy, especially their Bf 109B model. Problems include too shallow and misplaced gun slots, incorrectly positioned carburettor intake scoop, inaccurate panel lines and cooling slots on the cowling, poorly shaped and poorly detailed radiator intake, very poor Schwartz propeller, short wing slats, undersized canopy (and one-piece too), cockpit configuration more typical of a later model and some 109E attributes on the fuselage.
Classic Airframes has now come to the rescue of 1/48 scale modellers with the first in a family of Jumo-powered Bf 109 kits. This premiere offering is labeled Bf 109 A, but this probably undersells the kit. In fact, you can build the Bf 109 V4, V5 or any early production machine with long leading edge slats.
Classic Airframes' 1/48 scale early Bf 109 kit comprises 35 parts in grey styrene; 22 parts in grey colored resin; a photo-etched fret; 3 clear injection molded parts; printed clear acetate sheet (instruments); instructions; decal sheet and painting guide for six aircraft (plus bonus decals for one more in two different markings).
The plastic parts are absolutely first rate. Moulding quality is excellent, and the highly polished finish does not reveal any moulding imperfections on the exterior surfaces. This shiny surface will be especially useful for modellers who plan a bare metal finish for their Bf 109. Panel lines are crisply recessed, and fabric control surfaces are quite subtly done.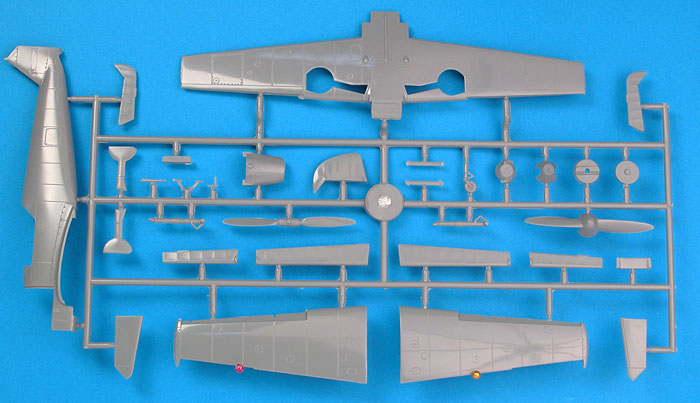 Click the thumbnails below to view larger images:
---
The shape of the model looks accurate - a vast improvement over the old Hobbycraft kits. Specific attributes of the early 109s are well represented, including the wing root fairing without the reinforcement strip, long leading edge slats and the location of various hatches and panels. A plastic Schwartz prop plus a VDM variable pitch unit are both included.
Although there are no locating pins on the main parts, the bottom of the wing has been reinforced with a long spar. This will add rigidity and ensure the correct dihedral.
Resin parts are beautifully detailed. The one-piece cowls are cleverly delivered with the carburetor intake scoop, exhaust panel and even machine guns cast in place. Two different cowls are offered - one with cooling slots and one without. The smooth cowl is for use with prototypes and early production machines, while the cooling slots were mainly seen in the warmer climes of sunny Spain. The position of the gun troughs, panel lines, exhausts and slots look to be correct.
Other unique attributes of these early Jumo 109s are well represented too, including a separate radiator intake fairing with fine radiator face detail cast inside, well-detailed cockpit floor and sidewalls (two sets of sidewalls are included, permitting the modeller to decide whether and where he wants to locate the map case), two seats (in my opinion, the separately bagged seat is superior in shape and detail), instrument panel with integrated gunsight, and the control column with spade grip. A standard stick is also included. I was impressed with the rudder pedal assembly too, which even includes cast-on hydraulic lines behind the pedals.
The remaining resin parts are the wheels featuring nice deep hubs, leading edge slats, wheel well inserts and Schwartz propeller. The shape of the resin Schwartz propeller is much better than the plastic version.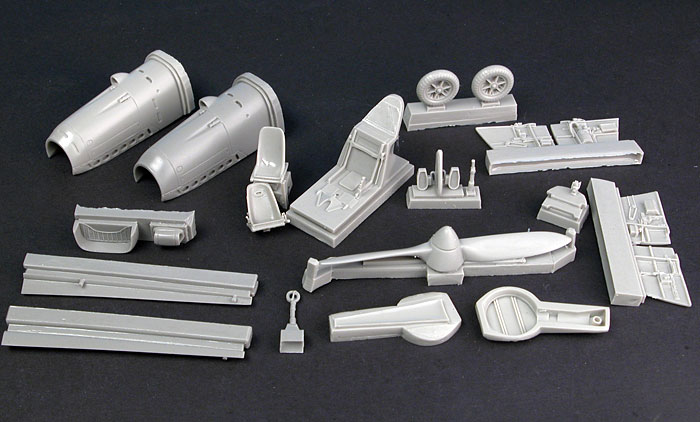 Some of the parts, including the radiator front, oil cooler, Schwartz prop, wheel well inserts and the instrument panel, are cast onto stout blocks so a combination of a good razor saw and caution will be required when preparing these resin components.
The photo-etched parts supplements all this nice detail with an instrument panel, harness, a fuselage face with cooling holes (a really nice touch), additional radiator face details and two alternate main gear doors. If the modeller wants to slice off the tail wheel oleo scissor, a photo-etched replacement is also supplied.
---

Markings
Six interesting marking options are offered on the instructions - the Bf 109 V4 in silver, camouflaged V 5, two early production machines from the Spanish Civil War, "White 5" in 70/71/65 from JG 132, and "Red 10" from an unknown unit.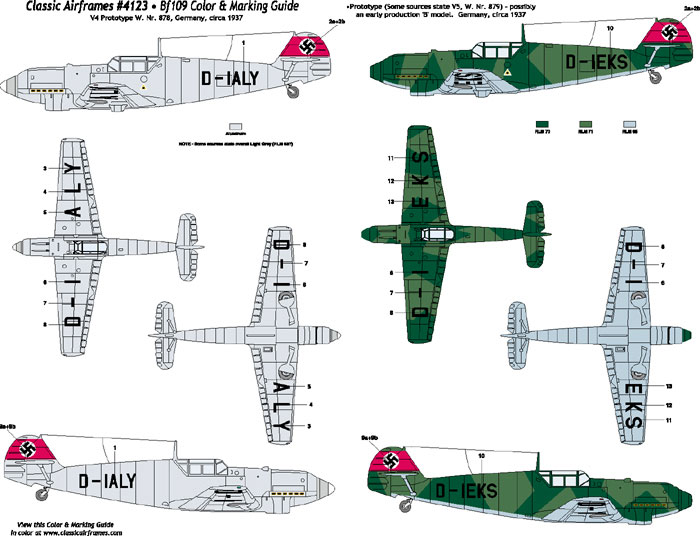 Click the thumbnails below to view larger images:
---
Although it is not mentioned in the marking instructions, two additional sets of markings are also supplied for Trautloft's "6-1". One set of markings is the early style, while the other set provides the later, larger numbers. It is likely that the early version was finished in either bare metal or a translucent protective coating, while the later markings were probably applied after the aircraft was painted in RLM 63/65.
Sources are at odds about this machine (presumably the reason that this option was not officially included), but several references suggest that this machine was actually the Bf 109 V4 sent to Spain for evaluation. There is also a photo of this aircraft on a web page, "The Bf 109 in Spain" http://www.zi.ku.dk/personal/drnash/model/spain/bf109.html , which displays all the characteristics of either the Bf 109 V4 (which was the B model prototype), or an early production machine. I would feel fairly comfortable using these markings in combination with the prototype cowling (without the cooling slots).
The marking guide is on black and white, but a colour version is available on the Classic Airframes website. I have also included the colour guide in thumbnail format above.
Classic Airframes has delivered, without question, the best detailed and most accurate injection moulded Jumo-powered Bf 109 kit available in any scale.
Granted, this model will need a little more cleanup and preparation of parts than a long-run release from Tamiya or Hasegawa. Also, the lack of locating pins will call for extra care and dry-fitting. In other words, modelling skills are required, but anyone who has already built a Classic Airframes kit should not have any trouble coming up with a great result straight from the box.
I have already cleaned up the plastic and resin parts in preparation for assembly. Total time for this task was around one hour. Test fitting suggests that there should be no problems with construction. I feel that Classic Airframes' early Bf 109 would be an ideal candidate for a modeller who has a few plastic kits under their belt and would like to try their first limited run offering.
Highly Recommended to experienced modellers.

Thanks to Classic Airframes for the review sample.
---
Classic Airframes kits are available worldwide through hobby retailers and from Squadron.com
---
Review and Images Copyright © 2006 by Brett Green
Page Created 16 January, 2006
Last updated 17 January, 2006
Back to HyperScale Main Page
Back to Reviews Page