A Tale of Two Tigers: 1/48 scale
F11F-1 Comparo
Collect-Aire vs. Fonderie Miniature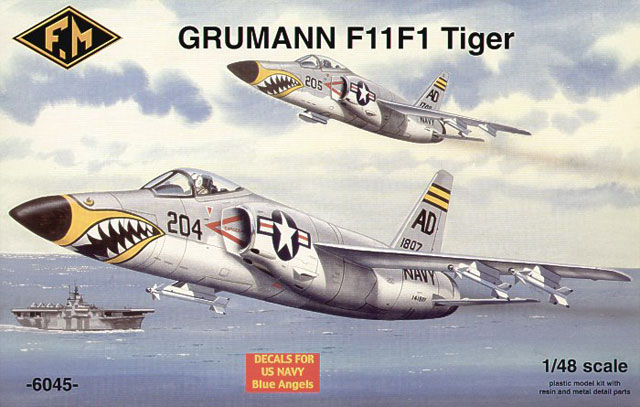 Brand and Description:
Scale:
Medium:
Price:
Collect-Aire F11F-1 Kit no. 4807
1/48
Resin including white metal details.
MSRP USD$99.95
Fonderie Miniature F-11F-1, Kit 6045
1/48
Multimedia kit (short-run injection styrene main components plus resin and white metal details).
MSRP USD$85.00
(available for USD$59.95 online from Squadron.com)
by "Bondo" Phil Brandt
Fonderie Miniature's 1/48 scale F11F-1 Tiger is available online from Squadron
Background (There I was...)
Princeton AFROTC Cadet Bondo stood at ease at the 1959 annual Spring joint ROTC parade. It had been rumored that there was to be a surprise appearance of some kind, and it wasn't long in coming. As our attention was directed up in the bright New Jersey sky, a formation of tiny black dots passed overhead in trail. They split-essed, and soon all six sleek Blue Angel Grumman Tigers smoked by the parade ground at very low level. The impressive "enroute" show lasted about fifteen minutes, and then the Blues continued on to destination. I still remember how those F11F-1 "Long Noses" had a "look" that was absolutely perfect for their role in one of our nation's two frontline military aerobatic teams.

Although the Tigers enjoyed a relatively short operational career, mainly due to insufficient J65 power, their handling was honest and quick–some say that the Tiger was the best airplane the Blues ever flew--and the airframes were simple and tough, in the best Grumman "boilerplate" tradition. When, later, the J79 engine was mated to a few Tiger airframes, performance became phenomenal, approaching mach 2.2.
---

Kit Chronology
In the past ten years or so, modelers desiring a 1/48 scale Grumman Tiger had but two choices: a) an injected, Fifties-era, somewhat toylike Lindberg "short nose" or b) the Collect-Aire (C-A) all resin "long nose." To convert the inexpensive Lindberg release into a definitive "long nose" was documented in, I believe, FSM; it's not an easy project.
The Collect-Aire resin release, one of the earlier ones in their eclectic line (but still in production), features engraved panels, cast metal gear, gear doors and main cockpit components. Additional details are a vacuformed canopy and separate speedbrakes, refueling probe and tailhook.

Enter the just-released Fonderie Miniature (F.M) limited edition, injected "long nose" with resin details, cast metal gear, photoetch and vacuformed canopy.
Now it's a whole new ballgame.

Scale Fidelity
The overall length of the C-A fuselage assembly is approximately ½" shorter than that of the F.M, that is, two scale feet.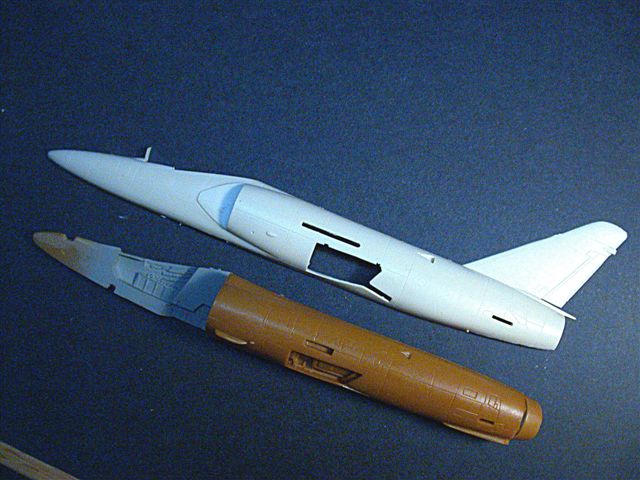 The F.M fuselage overlays exactly the line drawings from the Vol 10 Issue 11 (October 2004) line drawings in SAM. Wings from both kits match the SAM drawings, but the span of each C-A stabilator is roughly 1/8" (six scale inches) shorter than shown in the SAM drawings.
---

Molding
C-A: The fuselage aft of the intakes is typical of many early resin kits. That is, it's a monolithic chunk of caramel-colored resin (with a prominent raised casting seam down the centerline), so heavy that Bondo's floor-standing drill press with a 5/8" bit was used to remove a significant amount of the internal stuff; talk about piles of shavings! The forward fuselage is split lengthwise with separate intakes. Cockpit sidewall detail is molded in. Wings, stabs and vertical fin are individual one-piece assemblies, although you'll note in the pix that Bondo Industries employees chose to create separate slats and flaps. Maingear bays, forward and aft (that's right!, forward and aft !)speedbrake bays and the tailhook housing are all cast into the main fuselage. The refueling probe cavity is cast into the right forward fuselage half. Engraved panel lines are on the heavy side for this scale, especially the fuselage, but not as bad as Matchbox. The aforementioned bays are somewhat roughly executed, but with speedbrakes, gear and gear doors installed, it would be difficult to notice. Overall, details are somewhat soft.

F.M: Injected components feature petite engraving equal to most big name brands. Overall, molding is very crisp, but with moderate flash characteristic of limited-run injected models. The flash on wing-half trailing edges is particularly annoying. No worries re speedbrake and refueling bays; there aren't any! Three separate resin gear bays and the cockpit tub/seat are very sharply executed. Fuselage halves, unlike the C-A kit, are complete and, of course, hollow. That is, the forward (cockpit/nose) section, intake and vertical fin is integrated with each fuselage half.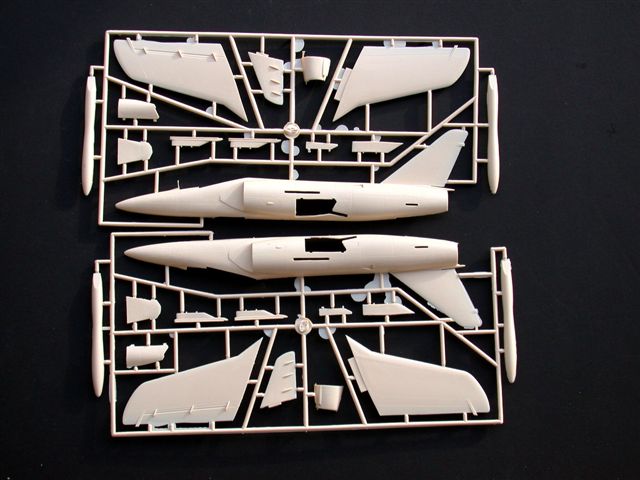 ---

Details
C-A: Because of the kit's solid main fuselage, tailpipe "depth" is a minuscule 1/4", while the F.M Tiger, with the hollow fuselage, features a two-piece assembly with much more realistic depth, approximately 1 ½". Although the cast-in, raised detail in the C-A cockpit sidewalls provides (pour moi, at least) not-bad realism, the cockpit floor--same with the roof of the nosegear bay–needs to be fashioned from plastic sheet to blot out the ugly seam running down the center of the fuselage halves. The C-A instrument panel is cast metal, and somewhat crude inasmuch as the rows of instruments are "wavey."
The C-A kit casts in some aft canopy detail on each forward fuselage half and adds a PE piece to the aft canopy. Their vac'ed canopy isn't bad, but has some waviness on the sides; just not as crisp as that of the F.M. The four cannon housings on the bottom of each intake stand too proud of the intake, and there is no representation of the cannon barrels.

F.M: For a non-cheapo kit (only 15% less than the expensive C-A release), it's surprising to see the lack of any speedbrake and refueling probe detail. However, the resin details that are included are first rate. The PE panel used by F.M is much sharper and precise.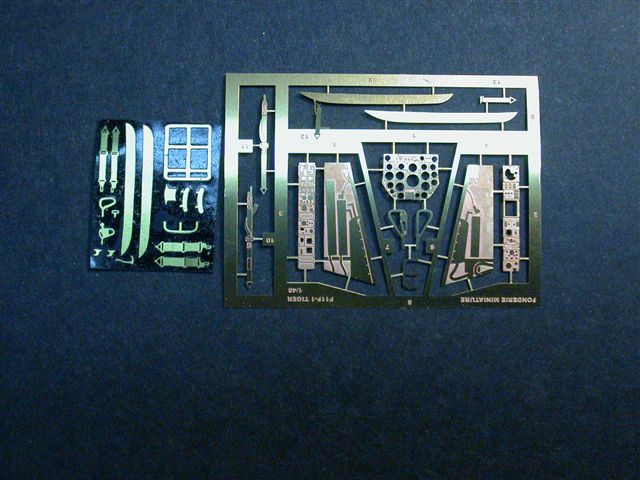 PE side panels on the F.M aren't bad, but by their very nature don't give quite the same artistic effect IMO as the raised emphasis of the resin C-A ones. The cannon barrels are correctly blended with the intakes, and there are representative cannon barrel depressions.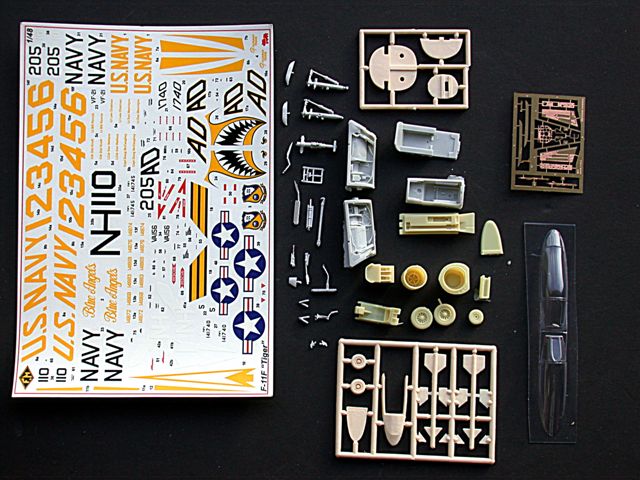 Multi-piece resin, vacuformed (very smooth, thin and clear) and cast metal canopy components for the F.M kit are excellent.
Click the thumbnails below to view larger images:
---

Cast Metal
C-A: It's good that the gear struts are cast metal because, as I've said above, without the services of a drill press, this model is one heavy sucker! Casting detail is not bad–the gear struts are nicely "busy"--but, along with the other metal parts, will need some needle file cleanup. I'm still mystified as to why the seat, instrument panel and gear doors were not done in resin.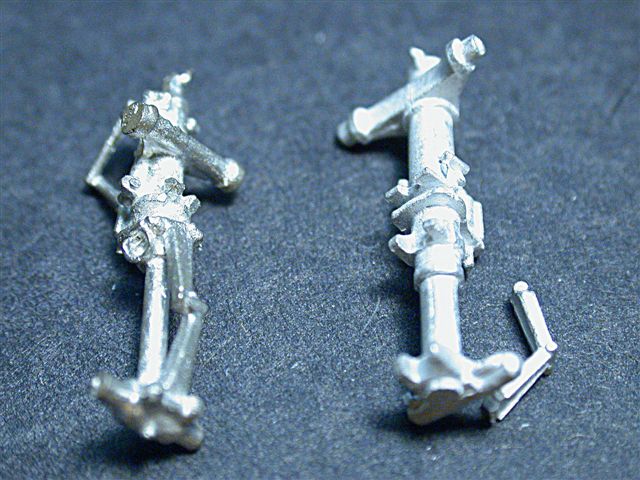 F.M: No surprises with the large quantity of cast metal in this kit; the French model manufacturers seem to be infatuated with the medium! This is not to say that the metal parts are substandard. In fact, they're excellent overall, somewhat more "finished" (read smooth, with a seeming glass-beaded flat finish) than those of C-A.
Click the thumbnails below to view larger images:
---

Externals
C-A: This one's easy; there ain't none, and I mean none! No pylons, no missiles, no tanks.

F.M: Two missile pylons and AIM-9s, plus two area-ruled, supersonic fuel tanks and correct pylons. Gotta say, though, that out of the more than one hundred B&W pix in the authoritative Ginter Naval Fighter book, there are only two shots of fitted tanks, and neither is of operational unit aircraft.
---

Decals
C-A: Quite decent Invisa-Clear markings for one operational squadron (the well known VF-21 shark's teeth) and Blue Angel Lead. Thinness, registration and color are right on the mark. A few stencils.

F.M: A large sheet with markings for two operational units as well as for all six Blues. Lotsa stencils, too. Decals are thin, and registration is good. Color is also excellent, with two glaring exceptions, the blue shade in the U.S. national insignia, and the jet intake warning stripes. I don't know why these outfits can't get the deep blue right. Instead, it appears that F.M's decal vendor has used the lighter blue of the French tri-color. The red intake stripes are way too orangey.
---

Instructions:
C-A: The traditional yellow booklet with the, unfortunately, traditional simplistic assembly drawings. Nice line and detail drawings and historical text, all seemingly gleaned from aviation mags such as Airpower and Wings and the Ginter book. One page showing decal placement and color division.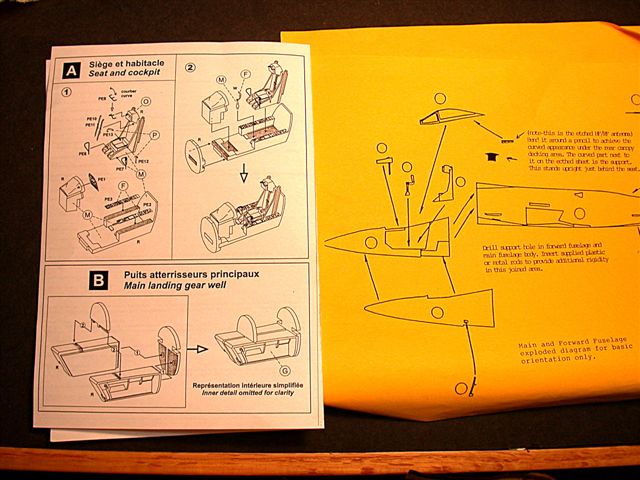 F.M: Eight smaller pages of very decent computer-generated assembly blow-ups and perspective sub-assembly detail drawings. It would be very difficult to screw up things by following these pages. Four additional large B&W pages of color schemes, markings and stencil placement.



A proper evaluation has to include the knowledge that the hard-to-produce resin C-A kit is at least ten years old and, for its time, was IMO a quite decent effort, albeit expensive, and certainly not close to shake-and-bake. The slightly less expensive F.M kit is quite superior in molding, ease of assembly and resin add-on details. That said, not only does it lack the additional speedbrake and refueling details standard in the elderly C-A kit, but, in a present day $85 kit, I would expect to see at least positionable slats and flaps, ala Trumpeter.

Even with these criticisms of the latest F.M release, I would have to say that the $100 C-A kit has seen its day and been decidedly eclipsed. In this curmudgeon's opinion, it's now of value mainly to collectors.

---
Review and Images Copyright © 2005 by "Bondo" Phil Brandt
Page Created 19 December, 2005
Last updated 19 December, 2005
Back to HyperScale Main Page
Back to Reviews Page