Douglas F3D-2 "Skyknight"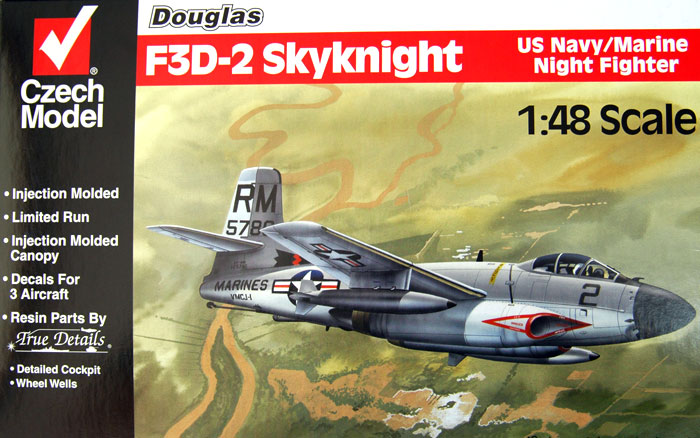 Czech Model, 1/48
S u m m a r y

Catalogue Number:
CM4814 - F3D-2 "Skyknight"
Scale:
1/48
Contents and Media:
80 parts in injected grey styrene; 16 parts in cream-coloured resin; 3 clear parts; markings for three aircraft.
Price:
USD$44.96 from Squadron.com
Review Type:
FirstLook
Advantages:
Important but until now neglected subject; high-quality plastic; good detail; recessed panel lines; excellent decals; drop tanks included; effective use of multi-media.
Disadvantages:
No tabs or alignment aids for major components; some preparation required; no harnesses for seats
Recommendation:
Recommended to modellers with some experience working with short run kits.
Reviewed by "Bondo" Phil Brandt


Czech Model's 1/48 scale F3D-2 Skyknight is available online from Squadron.com
The F3D "Skyknight" was Douglas Aircraft's response to a 1945 BuAer requirement for a carrier-capable, twin jet night fighter to shield the fleet. The BuAer specification was driven by 1944 Naval Intelligence concerns that Japan would upgrade their bomber force with German jet engine power, thereby upping airspeeds into the 500 MPH range.
First flown in 1948, airframe development continued into 1950 when the first operational bird was delivered.

The blunt, unlovely lines of the Skyknight were dictated by early radar requirements. Ungainly external radar antennas on WW II aircraft worked, but came with significant drag penalties. Dish antennas were just as efficient, but had to be large to produce a desirably narrow beam width.

Like many other American naval jet aircraft of the time, the Skyknight was plagued by the use of low performing Westinghouse engines. The poor performance of these engines came to a head with the F3H Demon, and subsequently Westinghouse abandoned the jet engine business.

The F3D could do its job, though, and in 1952 Korean War service made the first nighttime jet-to-jet kill (Yak-15) as well as the first nighttime Mig kill (Mig-15). Although the Skyknight was quickly bypassed by the rapid aircraft developments of the Fifties, it soldiered on, into the Vietnam War (as the EF-10B) until retirement in 1970.
It was with some personal sadness that Bondo acquiesced to the inexorable advances in model aircraft technology, plunking down the bucks for this admittedly very nice release, because on his "to do" shelf had sat the not-bad Collect-Aire resin kit of same...for at least three years and at almost three times the price. Another Ebay collectors item. But, I digress.....

Czech Model is, as "Uncle" Jules of Classic Airframes is also doing, getting with the program as far as giving modelers eclectic and exciting new releases.
Czech Model's 1/48 scale F3D-2 Skyknight comprises 80 parts in injected grey styrene; 16 parts in cream-coloured resin; 3 clear parts; and markings for three aircraft.
---

Molding
The injection plastic parts are well molded, with minimum flash, but somewhat more aggressive engraving than, say, Tamiya or Hasegawa.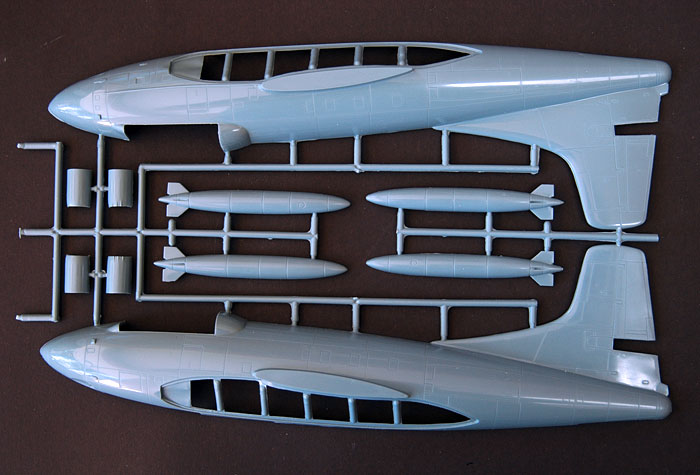 Click the thumbnails below to view larger images:
---
Surface texture is glossy. The modeler would be well advised to wet sand up through at least 600 grit before priming. The wealth of the kit's resin components (by True Details) makes all the difference, elevating what might, in this Golden Age of Modeling, be an average release to be competitive with the Big Dogs.
---

Fuselage / Wings
The wings are formed of four major pieces and simply butt-joined onto fairings extending from the fuselage halves. One could hope for a stronger interlocking mechanism such as dowels or tabs, but noooooooo.... I think I'll install some plastic through-tubing to add substance to the assembly. Flush flaps and ailerons are molded into the main wing sections, so you're on your own for positionable ones. Kit wingfolds are non-existent.
---

Cockpit / Canopy
The cockpit proper is all True Details, all the time...and very, very nice.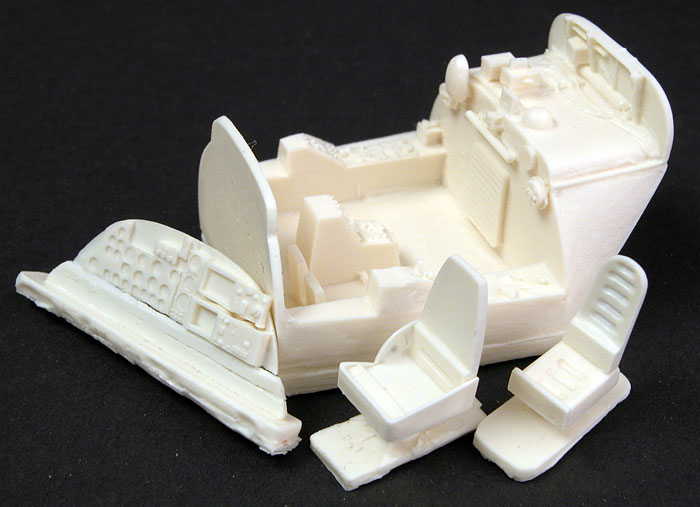 A monolithic tub, complete with aft avionics shelf, side/center consoles and separate, petite vertical canopy supports, combine with the separate, properly "busy," large instrument and sidewall panels. Instruments are represented by slight circular depressions, but you'll have to add the instrument faces. For a kit that's more than heefty dollairs, I really would like to see a PE panel with instrument film. Side-by-side seats are properly reproduced--they're different--but there are no molded-in belts or PE ones. In any event, I'm sure it won't be too long 'til good ol' Eduard comes out with a magnificent color PE upgrade fret for this kit. Lessee, if I knock this kit out tut suit, that'll guarantee that the Eduard product will be released the following week!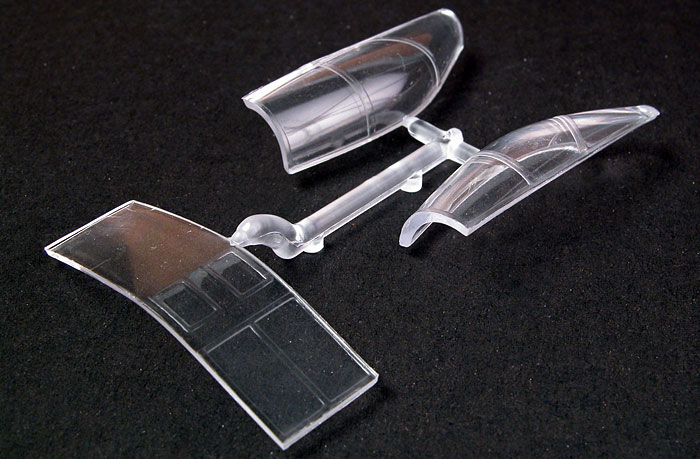 The large, three-piece canopy is thicker (especially the curved side portions) than we're used to seeing in not only late-model Tamiyagawa kits, but even old Revellogram ones. I'll bet True Details comes out with a vac'd one. Come to think of it, why didn't they do that this time?
---

Engines
Separate, side-mounted engine nacelles have built-up (two-piece) intake and exhaust trunking, with separately molded compressor and turbine faces. The split trunks always create a seam sanding problem, unless seamless Evergreen tubing (or thinwall brass) of proper diameter can be found. I did this on the Roden Mohawk, and the procedure worked well.
---

Landing Gear
The landing gear will need more than a little seam cleanup, and the relatively thick spigots, so typical of limited run Euro kits, will require extra care when removing the small parts...and there are five individual ones on each maingear strut, two on the nose!
The two-piece wheels are excellent, with fine detail; the mains even have triple discbrake calipers. All three resin gear bays have very petite structural details and wiring/plumbing representation. All injected gear doors have decent inner structural details.
---

Weapons and Weapons Bays
Weapons? We ain't got no steenkin' weapons! Unless, that is, you count the four cannon ports in the nose, which will need drilling out, and thin tubing glued behind to give depth. Under the wings hang two external tanks. Unfortunately, all pylons have sink marks.
---

Decals
Beautiful!
A very large sheet of thin, perfectly registered markings and stencils enable the modeler to do any of the three versions colorfully pictured on the back of the box. There are more stencils, black and white, than you could ever hope for.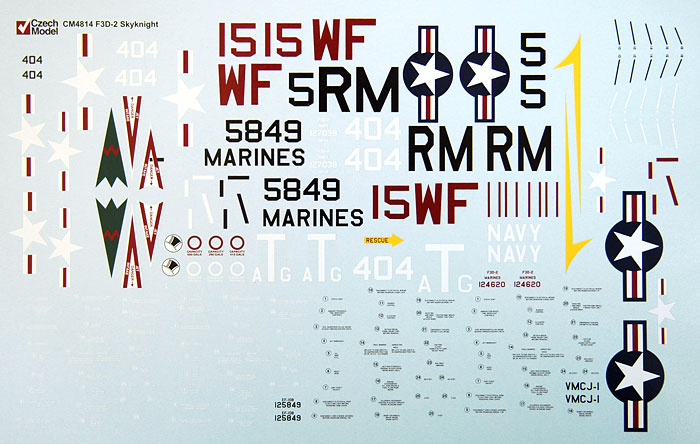 Note: I have always wondered about the shade of squadron markings on the Korean War overall black Marine night fighters. Some pix I have portray this shade, at least on Tigercats of the same unit, as more "orangy" than the dull red provided, and this is the shade I did on my F7F-3N. However, the questionable (to me) dull red shade on the Czech Model sheet has also shown up on other manufacturer's night fighter decal sheets as well as on the incorrect Monogram early -86D sheet--I've seen the real thing, and it's bright red.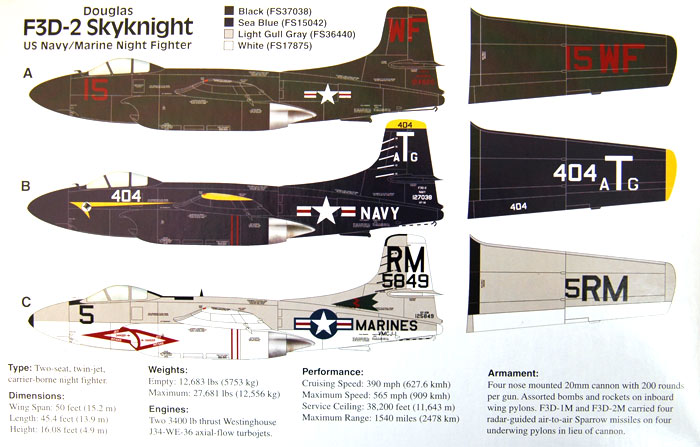 The dull, dark red on the Czech Model Skyknight sheet also seems to match the red bars of the national insignia, and this elderly modeler has his doubts about that, too.
---

Instructions
A four-page pamphlet with excellent perspective drawings, but mostly no-text, gives color hints as the builder moves along. The profiles of all three possible versions are portrayed in shades of gray (full color on the back of the box) with complete marking and stencil placement guides.
With their 1/48 scale F3D-2 Skyknight, Czech Model has delivered a very fine kit of a much-desired (well, I guess not as much desired for some as another interminable Luftwaffe "yawner") post WWII jet!
Now, let's see an aftermarket wing fold set so I don't have to do my scratchbuild schtick.
Recommended.

---
Review Text Copyright © 2005 by Phil Brandt
Images Copyright © 2005 by Brett Green
Page Created 05 January, 2005
Last updated 05 January, 2005
Back to HyperScale Main Page
Back to Reviews Page