BOAC De Havilland D.H. 106
Comet 1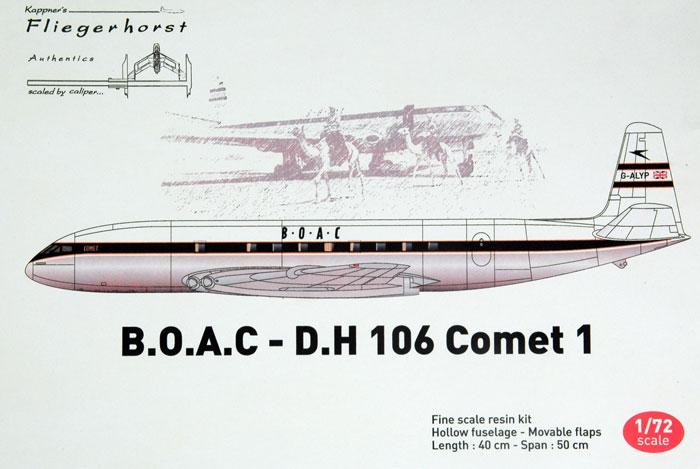 Fliegerhorst, 1/72 scale
S u m m a r y

Catalogue Number:
Fliegerhorst FL-006 - BOAC De Havilland D.H. 106 Comet 1
Scale:
1/72
Contents and Media:
41 parts in cream-coloured resin; 2 clear vacform parts; markings for two BOAC aircraft plus individual code letters.
Price:
In Europe - 99 Euros plus postage from Fliegerhorst's website
In USA - USD$135.00 plus postage online from DMC Models' website
Review Type:
FirstLook
Advantages:
A beautiful and significant subject; well cast and detailed; no big casting blocks; relatively simple parts breakdown; three options for canopy (vac, solid and open windows in resin part); positionable control surfaces; good decals; colour photos to supplement instructions
Disadvantages:
Cleanup of flash and some excess resin will be required; experience with resin kits required.
Recommendation:
Highly Recommended

Reviewed by Brett Green
HyperScale is proudly supported by Squadron.com

In my opinion, the de Havilland Comet 1 is the classic airliner. The sleek lines of its fuselage, and its four jet engines cowled inside its swept wings, were futuristic at the Comet's release and would surely rate well in any airliner beauty contest held even today.
As the world's first jet airliner, the Comet heralded a great new post-war era of British commercial aviation. The empire might have been fading, but the Union Flag would still still fly high across the globe thanks to this grand British intercontinental jet plane. The Comet was a great leap forward in terms of speed, passenger capacity and altitude. Never before had a pressurised airliner carried passengers at sufficiently high altitude to bypass adverse weather, and fast enough to finally make long-distance air travel practical and, eventually, affordable.
De Havilland had the jump on American airline manufacturers including Boeing and Douglas, and orders flowed in for the Comet from British and foreign operators.
This potentially bright future abruptly vanished after a tragic series of fatal Comet accidents. Six Comets crashed in the first few years of operations. The first two were the partly the result of poor design of the wing leading edge. This was quickly addressed. However, at least two aircraft were subsequently destroyed at cruising altitude due to explosive decompression following accelerated metal fatigue of the airframe. As a result, the Comet was grounded. Specifically, the weakness at the corners of the square shape passenger windows was pinpointed as one of the major problems. However, the intervening years and the loss of confidence in the type meant that the Comet never regained its place as the premier jet airliner.
Fliegerhorst of Germany has now released a 1/72 scale resin kit of this classic airliner.
Fliegerhorst's 1/72 scale Comet 1 comprises 41 parts in cream-coloured resin; 2 clear vacform parts; markings for two BOAC aircraft plus individual code letters.
Surface detail is by way of finely engraved panel lines.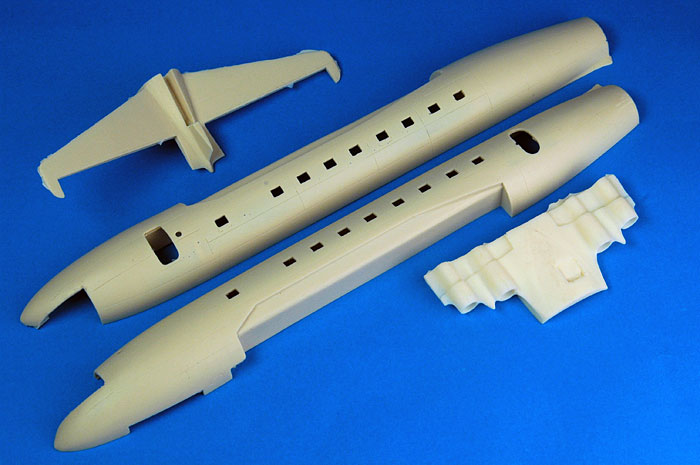 Click the thumbnails below to view larger images:
---
The resin is very well cast. There are a few pinholes visible under the surface of one of the fuselage halves, but they will be hidden under a coat of primer and paint. The surface is otherwise flawless. Also impressive is the lack of large casting blocks. The fuselage and wing parts are very big, but they will be ready to assemble after only a few minutes of attention with a sanding stick and a sharp hobby knife. Some of the smaller parts suffer from thin flash, but this will be relatively easy to clean up too.
The hollow fuselage halves are each reinforced with interior bulkheads and have a couple of locating marks to assist alignment. Test-fitting looks encouraging - no warpage or misalignment of these large parts as far as I can tell.
Each wing is provided as a single part, with the wheel wells and intakes cast in place. The wings fit into a saddle at the fuselage wing root which provides a very secure join and guarantees the correct dihedral. All control surfaces, including the centre flaps, are supplied as separate parts and may be positioned to taste.
Three options are offered for the cockpit roof, incorporating the canopy windows. There is a solid resin part with the outline of the windows scribed in place, a hollow resin part with open windows, and a clear vacform part so that the windows can be masked. A spare vacform part has been supplied in case of slip-ups.
All passenger doors and windows are open. Separate doors are provided, as is a sheet of clear acetate if you want to glaze your windows. I wonder if these will be too big to fill with Krystal Kleer?
There is no cockpit or passenger cabin detail but that is probably just as well, as you will need some serious weight inside the front of this model to keep the nose wheel on the ground. Fortunately, the three landing gear legs are cast in one piece each and are steel reinforced, so they will be able to handle the weight.
Fliegerhorst has supplied markings for two specific aircraft on the decal sheet, including G-ALYP, the worlds first commercial jet airliner and the fifth Comet to crash. They also include a set of eight additional individual code letters. With some careful mixing and matching you should be able to depict almost any BOAC (or BOAC South African) Comet 1.
The decals are ALPS printed. They are in perfect register and crisply printed. Windows are clear on the decal sheet. Depending on how you choose to tackle the windows on the plane, you might want to cut these window blanks out before applying the decals.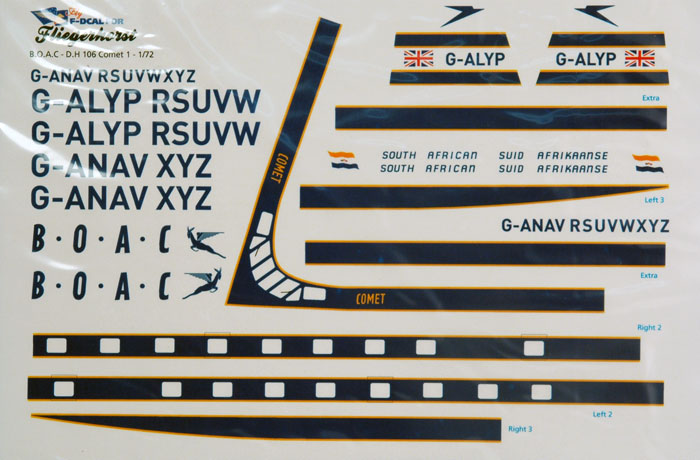 Click the thumbnails below to view larger images:
Instructions are supplied on four sheets of A4 paper. Two of these sheets provide construction notes in German and English. The second sheet has eight helpful construction photos on full colour, and the last page has detail photographs and drawings, plus a template for the masking cockpit windows.
Fliegerhorst's 1/72 scale Comet 1 is a lovely model of this classic, but ultimately tragic, British airliner.
The small parts counts should not imply that this is a beginner build. You will need some experience with resin kits before you tackle this beauty, but I am sure that the results will be spectacular. With its 50cm wingspan, it will be impressively large, and big enough to show off the sleek lines of this groundbreaking aircraft.
I am looking forward to building my Comet 1. Being a civilian airliner, the finished model might even be respectable enough to display in the lounge room!
Highly Recommended.
Review sample kindly supplied by Fliegerhorst Models
---
Review Text Copyright © 2006 by Brett Green
Page Created 09 June, 2006
Last updated 09 June, 2006
Back to HyperScale Main Page
Back to Reviews Page