Focke-Wulf Fw 190D-9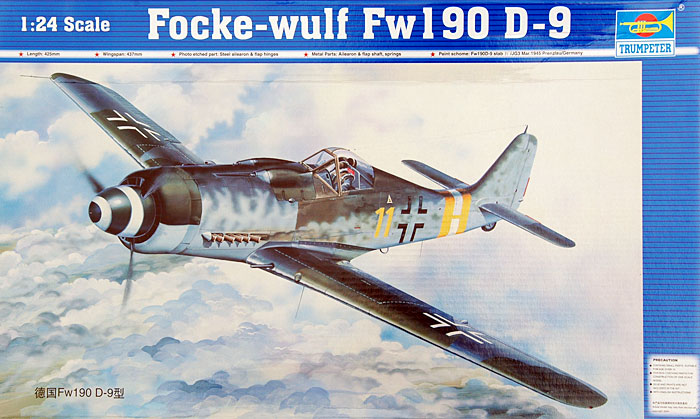 Trumpeter, 1/24 scale
S u m m a r y

Catalogue Number:
02411
Scale:
1/24
Contents and Media:
Five sprues in light grey injection molded plastic; One sprue in black; One sprue in clear injection moulded plastic; metal shafts for ailerons and flaps; photo-etched parts for control surface hinges; 2 x springs; markings for two aircraft
Price:
USD$99.96 from Squadron.com
Review Type:
QuickLook
Advantages:
Accurate outline compared to respected drawings; constant and crisply engraved panel lines; restrained flush rivet detail; good quality mouldings; workable control surfaces; nicely detailed engine; very thin, clear and accurate transparent parts; includes optional style gun cowls plus drop tank and MW tank.
Disadvantages:
Several whacky detail issues (eg tiny DF loop, fictional detail on inside of gear doors, curved engine cowling hinge line, featureless tail wheel); no easy way to display engine and MW tank.
Recommendation:
Recommended.
Reviewed by John Hassall
with additional material by Brett Green


Trumpeter's 1/24 scale Focke-Wulf Fw 190D-9 may be ordered online from Squadron.com
On a visit to my local hobby shop after work for some retail therapy I was presented with a large blue box and the words "This is the last one of half a dozen and we saved it just for you" .
The box was the new 1/24 Trumpeter Focke-Wulf Fw190D-9 so, with those opening words, what else could I do other than to hand over my weary plastic (marginally less painful than cash) and figure out how to get the thing home on the bike in the rain.. Strapped to the pillion seat and wrapped in plastic bags, Dora and I rode home.
As a recovering AMS sufferer I am not one to run the micrometer over things. However I am a great fan of the Dora and since coincidentally I have a Hasegawa 1/32 example at the painting stage I have all my references scattered over all the flat surfaces of my "shed". This essay, then, is a Mk 1 eyeball assessment of the kit in the box.
---

Packaging
The kit comes in Trumpeter's now standard industrial grade cardboard box with a decent bit of art on the lid depicting Yellow 11 of II/JG 2. If the parts fit as well as the lid does to the box minimal filler will be required!
Inside the sprues are individually bagged and fit closely in the box. There is a card insert at one end holding the etched sheet and hardware for the control surfaces that seem to feature in all Trump's kits (Has anyone actually ever used this feature yet?)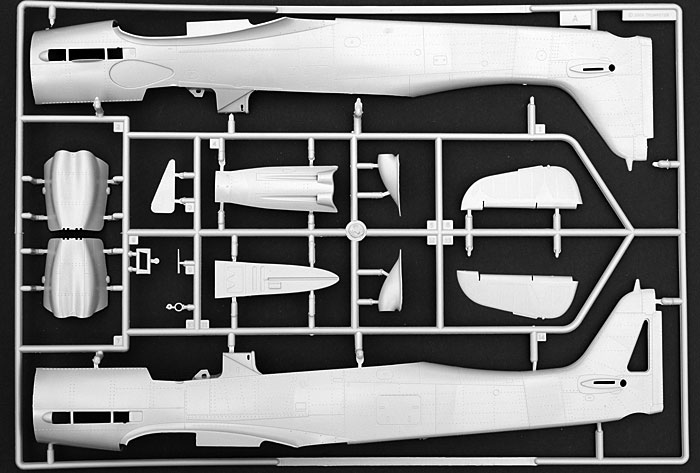 Click the thumbnails below to view larger images:
Take care with the etched fret as the film insert for the instrument panel is tucked away on the backing!
Under the card filler is the bagged clear sprue with both canopy types and assorted stuff such as the instrument panel upper section and a dodgy looking Revi gunsight.
Oddly though there are no wingtip lights, these being represented by blobs on the wing halves.
The canopies are very nicely moulded, very clear and thin in section with "frosted" areas to define the frames.
---

Instructions & Decals
Instructions are in an 8 page booklet in 29 steps with very well drawn, clear diagrams. Paint chart only has Gunze reference with little or no RLM or any other matches.
As usual the assembly sequence will not suit everyone and I suspect there will be some frustration when it comes to the undercarriage.
The camouflage and markings are on a separate colour printed A3 sheet. There is no reference given for either scheme.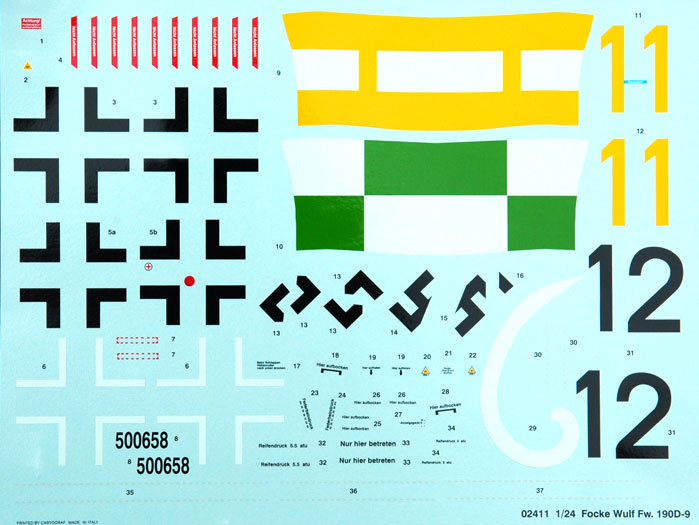 The options are Yellow 11 of II/JG 2 and Black 12 Werknummer.500658 with a green white checked RV band, presumably from one of the converted KG units. I've not seen this one before so if anyone can shed some light, I would be grateful (the green/white chequered RV band on this aircraft is new to me too - ed).
Decals are by Cartograf and look quite good with adequate stencils, white spinner spiral and the colourful RV bands included. No doubt those good chaps at the decal companies are busy enlarging their 1/32 artwork as I write.
---

Fuselage Sprue
The fuselage halves are impressively large with nice neat panel lines and rivet "engraving". Noticeable is the separate triangular inspection panel in the fin. Even more noticeable is the lack of any internal detail either there or on the cockpit sidewalls.
Then there's the engine area. A whole sprue of parts is in the box for a very detailed engine but there are no arrangements for displaying the thing once installed!
The forward upper panel with gun troughs looks a little suspect in plan view but I'll leave judgement for others.
Both types of gun cowl are included though both appear to suffer from the "Sabrina" (or for younger readers, Pamela Anderson ) effect a la the Hasegawa 1/32 example. However they do have some dubious structural detail on the inner surface.
---

Cockpit and Nose
The cockpit tub is cleanly moulded but detail seems a little shallow for this scale. The rear deck is neat but a bit simplified.
The seat is adequate and has a rather featureless cushion as a separate part. No harness is supplied.
The control stick is a rather poor, fat effort and I'm not sure whether it can be salvaged. Instrument panel as stated above is an odd mix of moulded detail with a film backing and separate clear front for the upper panel. Plenty of scope for more detail here.
The front of the annular radiator is just about okay but is a bit soft in definition. It does however include the rear face and body which is a nice touch.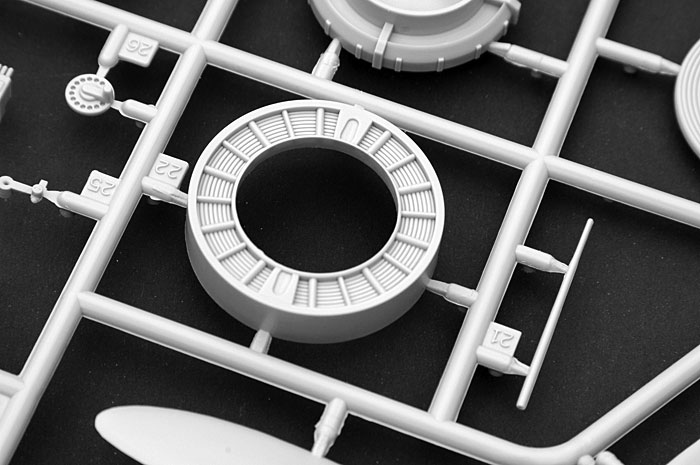 Cowl flaps come as optional open or closed. The open option is incorrect in that it has ALL the flaps open. The flap in front of the intake should remain closed. The open option also demonstrates the slightly gap-toothed appearance of other large-scale Trumpeter cowl flaps.
The airscrew is a one piece moulding and looks good in shape (this from a bloke who hasn't yet got his head round the Bf 109 F thru early G series shapes yet). The spinner looks suitably bulbous. A couple of reasonable cowl MG's round out the nose area and at least this time one can "lift the lid" with the separate top cowl parts.
---

Engine
This is a busy sprue of parts to make a very nice engine. It would be a model in its own right on a stand - and that would be the only way it will ever be seen again without extensive surgery to the fuselage!
Exhausts are in two parts each and are hollow but have exaggerated flanges on the end.
The wing ammo boxes have the straps moulded on them
---

Wings
Again the wings are impressively large. The lower wing is one piece but there are no spars or other supports. Ailerons and flaps are separate with some neat interior detail.
The wing leading edges have an annoying "squared off " appearance. There's enough plastic there to resculpt but that will mean restoration of detail.
The A series legacy exhaust channel between the wheels is depicted in a rather shallow nondescript fashion. I think I'll probably just fill and sand. Spent ammunition casing ports are shown as shallow indents.
There are some rather basic wing root cannon included but no bay detail or separate access hatches. Panel lines and rivets are nicely done though at a quick check against the Hasegawa kit all may not be present or correct.
The undercarriage bay insert has been fixed by deletion of the centre area, though it is shown on the parts layout in the cartoons. Incidentally my instructions set has quite a few corrections applied via stuck on amendments.
---

Undercarriage and Wheels
The round end of the undercarriage bay has walls moulded, which shouldn't be there. All things considered maybe there's an A series 190 in the pipeline somewhere down the track. (Or did they use the old Airfix kit as a reference? There is a faint resemblance here and there).
The gear legs are moulded separately in black and are designed to be sprung. The upper ends are moulded per the prototype instead of the more usual peg and socket found on most kits. The main issue is that because the legs have the "bend" at the top means they have to be glued in place when the wing is assembled. I can see that in my usual ham fisted fashion I'm going to be repairing the undercarriage a few times during assembly! I'll be interested to see others solutions to this one.
There are two biro springs included in the metal parts bag which one apparently insert into the leg, followed by the lower oleo section and axle. I'm not sure how it all holds together but it looks like one of those insert, twist and click to lock exercises. Should be fun!

There are no brake lines on the gear legs. Scissor links are bulky and in 2 parts. Also, the gear doors have excellent detail on the outside, but completely fictional raised structural features on the inside.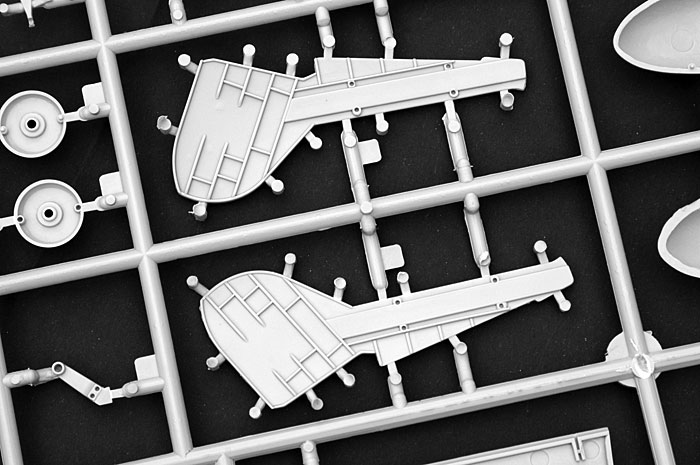 Tyres are supplied in injection plastic as two halves each with the late tread pattern and separate hubs.
The tailwheel has NO hub detail at all, resembling a small donut. Also, the fuselage area around the tail wheel opening is not flared.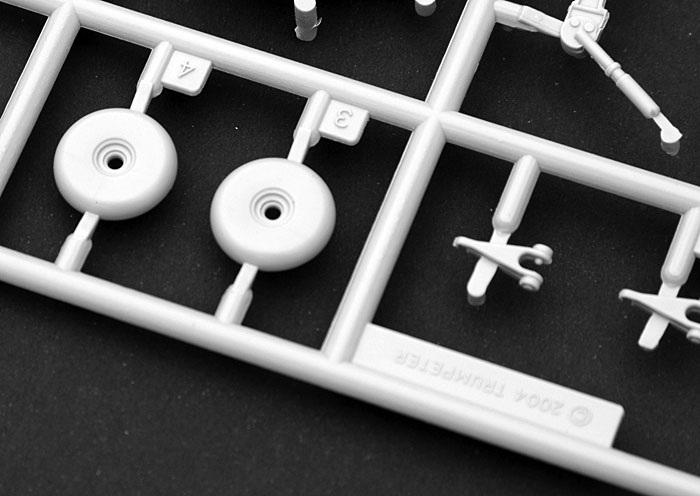 The tail leg is okay but is quite simplified.
---

Miscellaneous
Replace the pilots footstep - it is too fat and clunky. While there are no sink marks to be seen on any of the parts I did notice a very slight flaw in the fin on one fuselage half. Also, the DF loop is tiny. It will be fairly easy to make your own replacement.
Fabric effect on the rudder and other control surfaces is restrained.
Various parts on all the sprues have some minor flash.
On another sprue there are parts for the large MW (Methanol Water) tank situated behind the cockpit. Once again, though there is no other interior detail and no separate access panels.
---

Outline Accuracy
by Brett Green
I compared the fuselage of Trumpeter's 1/24 scale Focke-Wulf Fw 190D-9 with plans in Jerry Crandall's book, "Yellow 10", published by Eagle Editions. The plans were scaled up from 1/48 to 1/24. Although the drawings depict a Fw 190D-13, the basic fuselage, wing and tailplane forms are the same. The differences lie in cowl shapes, powerplants and armament.
Fuselage and tailplane dimensions matched very closely. .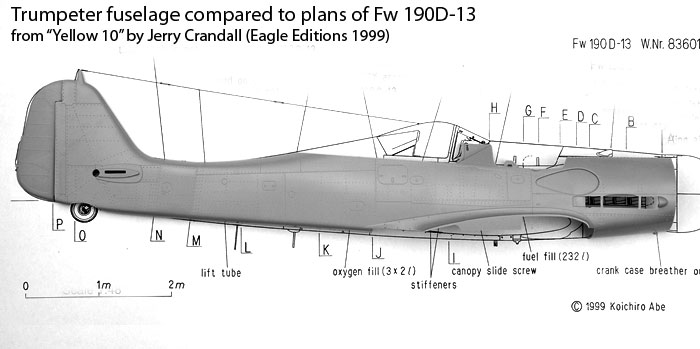 The kit fuselage was very slightly shallower than the drawings in the mid fuselage area - less than two millimetres at the point of greatest discrepancy.
The wings also compare very closely to plans.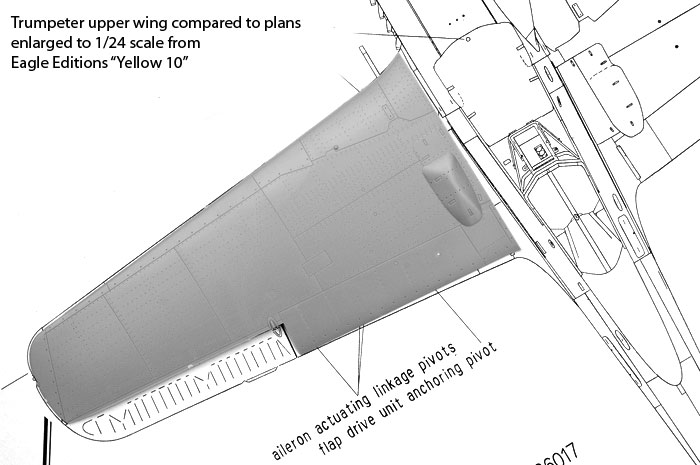 More obvious is the hinge line of the upper forward cowl. Being a hinge, this line should be perfectly straight, but it actually is curved. Fortunately, it should be a relatively simple matter to glue the top cowl in place, fill the existing hinge line, sand flat, then rescribe a new straight line.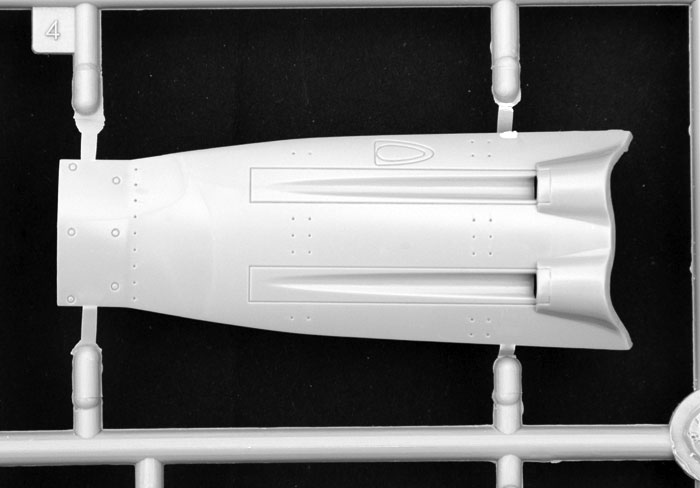 Overall though, the outline of Trumpeter's Dora compares closely to these respected drawings. In the box, the model certainly passes the outline accuracy test.
by John Hassall
While it may seem that I am mercilessly bagging this kit I actually quite like it. Overall it is a nicely presented kit of my favourite aircraft, and the thought of a BIG Dora for my collection is a delight..
There are some disappointing aspects to the package but at least there is now a 190D-9 out there. However, I am mystified by Trumpeter's half-cocked approach in supplying all the extras only for much of it to be hidden once built. Are they planning to do a Profi style version perhaps? Or maybe a see through version?

I'll bet that the aftermarket will have a field day with this one. The scope for a full on detail build is immense.
In summary, Trumpeter's 1/24 scale Fw 190D-9 lacks the authority and definition of the current Japanese kits with which it will be compared, but it is accurate in outline, will look impressive when completed (even without modification), and has great potential for additional detailing.
I look forward to seeing what Messrs. Wauchop, Green, Robertson, Werner and all the other Experten will make of this kit.
If you like Luftwaffe, Dora's or big models then this is for you.
Recommended.
Kits purchased with the reviewers' funds
---
Text Copyright © 2004 by John Hassall and Brett Green
Images Copyright © 2004 by Brett Green
Page Created 08 November, 2004
Last updated 08 November, 2004
Back to HyperScale Main Page
Back to Reviews Page