Revell's 1/32 scale
Heinkel He 162A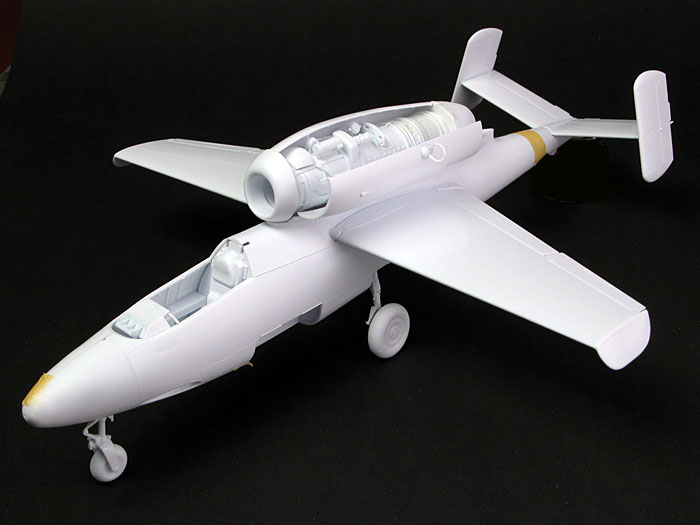 Test shot of Revell's forthcoming 1/32 scale He 162A partially assembled.
Major components (eg wings, fuselage halves, tailplanes) have not been glued at this stage.
Preview
S u m m a r y

Catalogue Number:
04723 - Heinkel He 162
Scale:
1/32
Contents and Media:
87 parts in coloured styrene; 4 parts in clear styrene. (please note - these are pre-production test shots)
Price:
Available for pre-order:
from Squadron for USD$27.46
from Hannants for GBP£19.99 (to European Customers)
or £17.02 to other export destinations.
Review Type:
FirstLook
Advantages:
Excellent (and appropriate) surface texture; good level of detail; includes full engine and positionable cowl doors; exceptional fit; fast construction possible; thin and clear transparencies; two-part canopy; engineered to minimise ejector pin marks; open cannon ports; brake lines moulded onto gear legs; harness moulded on seat.
Disadvantages:
Some sink marks on fuselage side
Recommendation:
Highly Recommended

Previewed by Brett Green
Test-assembled by Steve Palffy


Revell's forthcoming 1/32 scale Heinkel He 162A may be pre-ordered online from Squadron.com

Yesterday on my doorstep, unheralded, sat a slightly crushed box simply labelled "Revell". Inside were test shots from two exciting forthcoming releases. Today I will tell you about the sprues for the Revell 1/32 scale Heinkel He 162 "Salamander". You'll have to wait until tomorrow to hear about the second kit!
I should point out that these are pre-production test shots, and there may be further revisions before the kit is released later this year. I also believe that the white plastic will not be the final colour, and has most likely been chosen as an easy way to distinguish this latest revision from earlier test shots. Having said that, the contents of these sprues will probably be very similar to the production version.
Revell's 1/32 scale Heinkel He 162 comprises 87 parts in coloured injection moulded plastic on four sprues, and 4 clear parts. Comparison with photos that I took of test shots on display last month at the IPMS Nationals in Phoenix shows that the moulds have been modified. The nose cone has a more rounded profile compared to the slightly pointy shape on the earlier sprues. This is a noticeable improvement. The fuselage, wings and tailplanes certainly capture the distinctive lines of the Volksjager.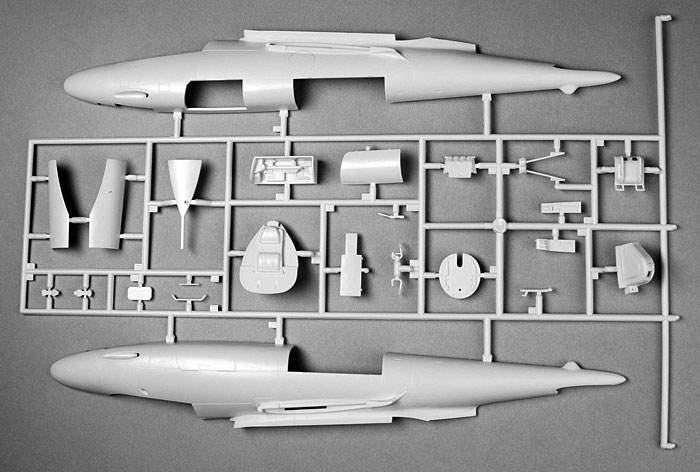 Click the thumbnails below to view larger images:
---
The Heinkel He 162 was a simple aircraft, and the relatively small number of kit parts reflects that simplicity. However, this does not imply any compromise in detail. The kit includes a full BMW 003E engine, positionable clamshell engine cowling doors, a nicely detailed cockpit, a gun bay with poseable access panel, and wheel wells packed with structural features. The gear legs are nicely rendered with brake lines moulded in place. The wheels are outstanding too.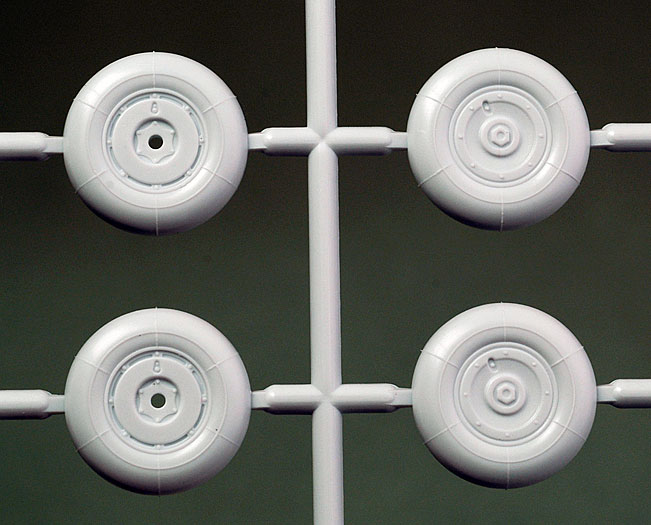 Click the thumbnails below to view larger images:
---
The quality of the exterior surfaces is also very good. Many of the major parts on the He 162 were wooden. These areas, including the nose cone, the main section of the wings and the tailplanes, are accurately depicted smooth and featureless. Metal sections have fine panel lines and some rivet detail. I particularly like Revell's reproduction of the simple hinges on the He 162. The deep cannon troughs, continuing through to separate parts for the cannon barrels inside the fuselage, are also noteworthy.
Ejector pin marks - those raised or recessed circles usually seen in various locations on kits - are a perennial challenge for kit manufacturers. They are an unavoidable by-product of the injection moulding process, but Revell has cleverly designed the kit so that the marks will not be visible once the kit is assembled. The usual areas that you would expect to see ejector pin marks, including the inside of the big engine cowlings and the gear doors, are completely unblemished. There are a few ejector circles on the inside of the forward fuselage, but even these have been located away from the moulded-on sidewall detail.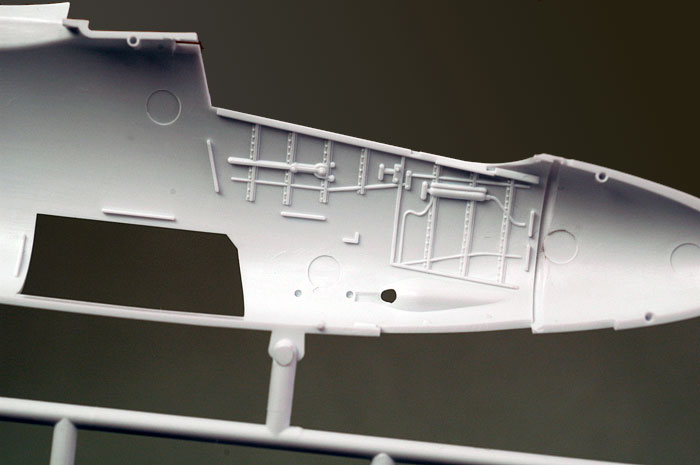 The only (minor) problem that I can see is some sink marks on the outside of the forward fuselage, corresponding to the position of the interior structural detail. Although they are theoretically imperfections, to my eye they give this area the illusion of stressed metal! If you don't like it, a few minutes with putty and a sanding stick will eliminate these sink marks.
The transparencies are very thin, beautifully clear and free of distortion. There is a two-part canopy, a gunsight and the small window in the forward wheel well.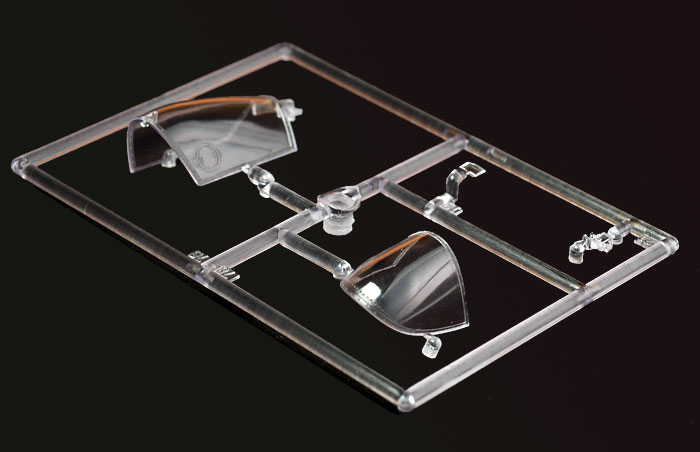 One of the best parts of this job is that I get to see lots of interesting models and accessories. One of the sad realities is that I can't build all of them myself! Fortunately, HyperScale is surrounded by a stellar array of modellers who are willing to help out. It was therefore with a lump in my throat that I handed the precious white plastic over to Steve Palffy last night, making plans to progressively photograph construction during the week.
At 7.00pm tonight the phone rang. It was Steve. "Is your camera battery charged up?" he asked. Steve had already finished the basic assembly of the kit.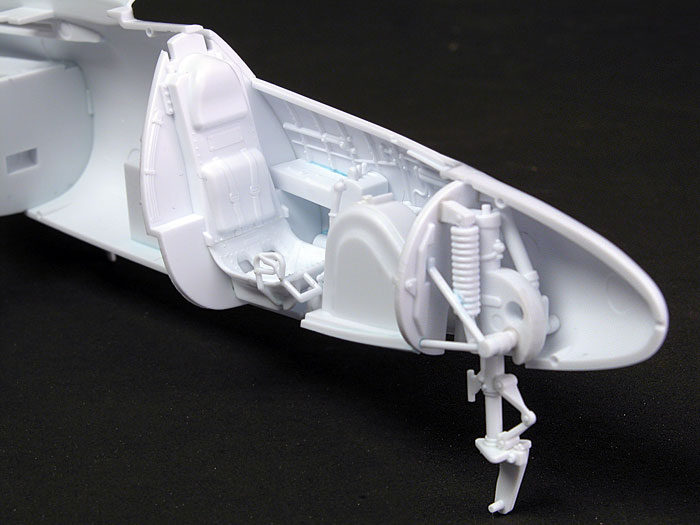 Steve commented that the best fitting, fastest and most enjoyable aircraft kits that he has built to date are AMtech's Focke-Wulf Ta 183, and Tamiya's 1/48 scale P-47 Thunderbolt kits, in that order. Having built these models myself too, I can understand where he is coming from. His impression is that Revell's 1/32 scale Heinkel He 162 matches the AMtech kit in terms of exceptional fit, speed of construction and sheer pleasure.
Even without instructions, Steve took less than half a day to build the model to this stage, and did not encounter any fit problems. He approached the model as several sub-assemblies:
wing halves (port and starboard)
tailplanes
engine
main gear bay and undercarriage legs (installed in port side fuselage half)
cockpit (mostly installed in port side fuselage half)
nose gear and gear bay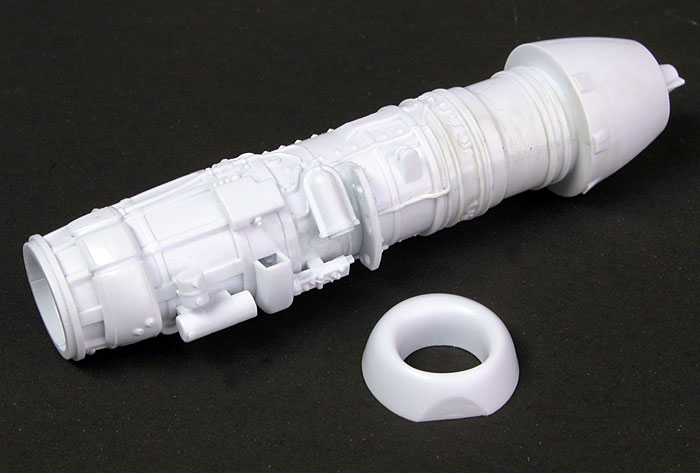 In all of these photos, the fuselage halves are simply taped together, the wings are slotted into the fuselage without glue, the engine is resting in its locating holes and the tailplanes are sitting on the top of the fuselage, also without adhesive. Even so, apart from the drooping wings - which will obviously be corrected with cement - the fit can be seen to be superb.
Smaller details, such as gear doors, gunsight, cannon barrels and canopy, can be added after painting.
Steve was especially impressed with the retraction strut and spring detail at the front of the nose gear bay. He also liked the detailed cockpit and the authentically busy main wheel well. The engine is simple but quite effective too, with its turbine fan installed deep behind the intake.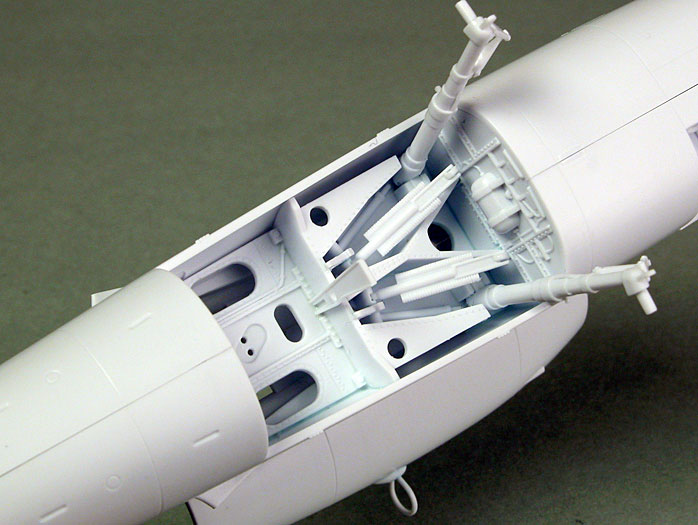 The model still offers modellers some opportunities to add more detail, especially in the fairly basic gun bay and also with more plumbing and wiring in the main gear bay, but the result straight from the box will be impressive regardless.
Noseweight will need to be added to avoid tail-sitting.
We should see this model completed and painted in a Construction Article over the coming weeks.
Authentic appearance, simple parts breakdown, exceptional fit, easy construction, good detail, affordable price.
Could a modeller ask for anything more?
Revell's forthcoming 1/32 scale Heinkel He 162 looks like a terrific model. In this scale, the He 162 is big enough to see the detail but small enough to display easily. This aircraft also suggests some interesting conversion possibilities for Luftwaffe '46 aficionados, including different tail surfaces, wings and powerplants. The Volksjager wore some colourful markings too. Decal manufacturers will hopefully jump on that bandwagon fairly quickly.
I would normally reserve recommendation when writing a Preview based on a test shot, but I think that I have seen enough to rate this kit.
Highly Recommended!
Thanks to Revell GmbH for the review sample.

Click the thumbnails below to view larger images:
---
Review and Images Copyright © 2004 by Brett Green
Page Created 07 September, 2004
Last updated 08 September, 2004
Back to HyperScale Main Page