Hasegawa's brand-new 1/32 scale
Junkers Ju 87G 'Kanonvogel'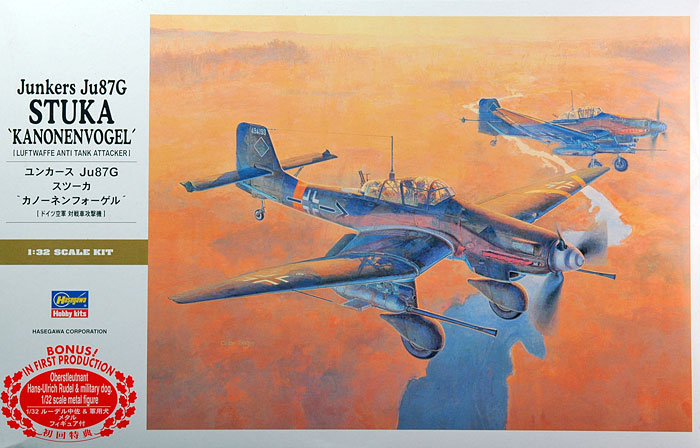 Hasegawa 1/32
S u m m a r y

Catalogue Number:
Kit No. ST25
Scale:
1/32
Contents and Media:
208 parts in grey injection moulded styrene (24 not used); 8 parts in clear; 5 parts in white metal; 4 polythene caps; markings for two aircraft
Price:
5,600 Yen
Review Type:
FirstLook
Advantages:
Accurate; robust parts breakdown; crisply recessed panel lines and subtle lines of rivets; raised surface detail where appropriate; well detailed including separate aileron and flap actuators; parts included for G-1 and G-2 variants; very thin and clear canopy parts; engineered for more variants in the future; no inserts.
Disadvantages:
Recommendation:
Highly Recommended
Reviewed by Brett Green
Hasegawa's 1/32 scale Junkers Ju 87G Stuka will be available for pre-order from Squadron.com
Hasegawa continues its commitment to large-scale Luftwaffe models with its brand-new 1/32 scale Junkers Ju 87G 'Kanonvogel'.
I was excited at the prospect of a new, big family of Stukas, but I admit to being a little disappointed that the G was first in line. In fact, I only added the Ju 87G as an afterthought to a couple of other kits that I was ordering from Japan.
Opening the box instantly reversed my initial apathy.
In my opinion, this kit demonstrates perhaps the best surface detail that Hasegawa has yet delivered (you will, however, note that I have carefully included the words "in my opinion", as the beauty of surface detail seems to be largely in the eye of the beholder). Hasegawa has supplemented their usual crisply recessed and restrained panel lines with a new feature - rows of very subtle rivets on all external metal-skinned surfaces. For the most part these lines follow panels, but in some cases they represent the sole surface features. I really like this effect, especially when applied to the brawny, purposeful lines of the Stuka.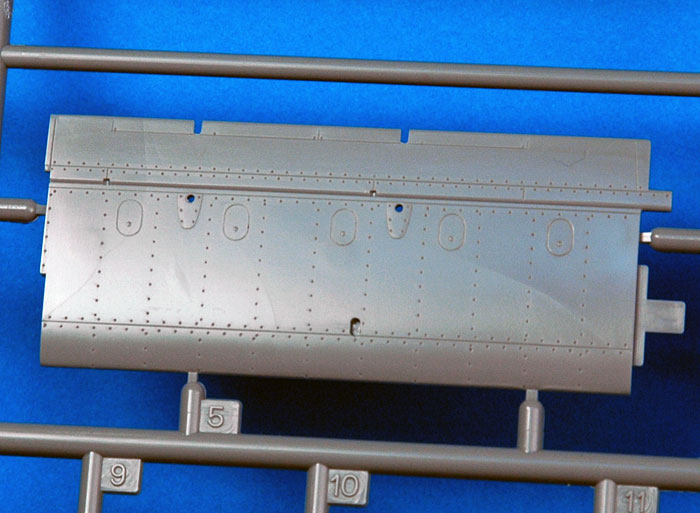 Click the thumbnails below to view larger images:
---
The large box is chock-a-block full. 208 grey plastic parts are spread amongst 15 sprues. 41 of these parts are marked "not for use". Eight parts are supplied in clear plastic, and the initial Japanese release also includes a nicely cast white metal figure of Obstlt. Rudel and his Alsatian dog.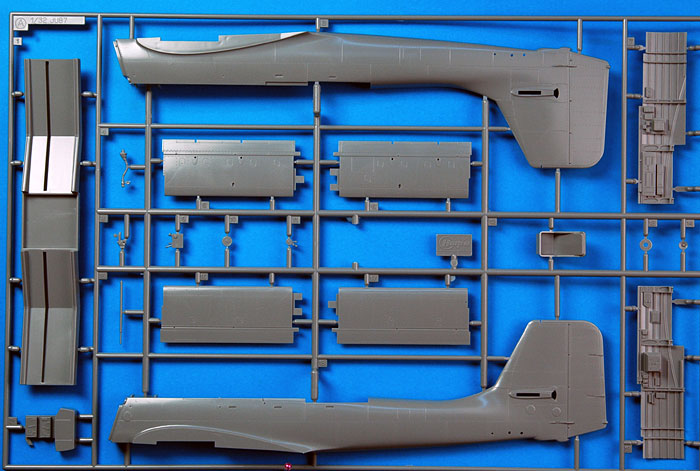 Click the thumbnails below to view larger images:
---
As mentioned, surface detail on all the parts is superb. There are no sink marks or ejector pin marks in visible areas.
Detail is generally very good, although the cockpit could so with a little help with the radios, the twin 7.92 machine guns (especially the gunsights) and the sidewalls. The after-market industry will undoubtedly leap on this detailing opportunity in short order. The big cannon pods are likewise quite nice straight from the box, but some time spent adding wiring will be worthwhile. Hasegawa has thoughtfully moulded the muzzle brake in two parts so the end is hollow, but the prominent cooling holes are represented as recessed circles on the plastic parts. The landing flaps and ailerons are supplied separately, and the actuators are also separate - very pleasing to see these prominent details handled so well. The tail wheel assembly is nicely detailed in five parts, including a separate tie-down hook.
The only option offered is to build either the G-1 variant with short wing tips, or the G-2 with long wing tips.
Wing bombs, wing racks and dive brakes are included but marked "not for use". You don't need to be Sherlock Holmes to figure out that these parts will be used in a future D, and possibly B/R releases.
Two seated plastic crew figures are included. Both seem remarkably cheerful considering their dangerous assignment!
Clear parts are very thin and free of distortion. Frame lines are mostly marked on the inside, which is quite correct for the Stuka. Hasegawa also supplies decals to be applied to the inside of the canopy - another nice touch.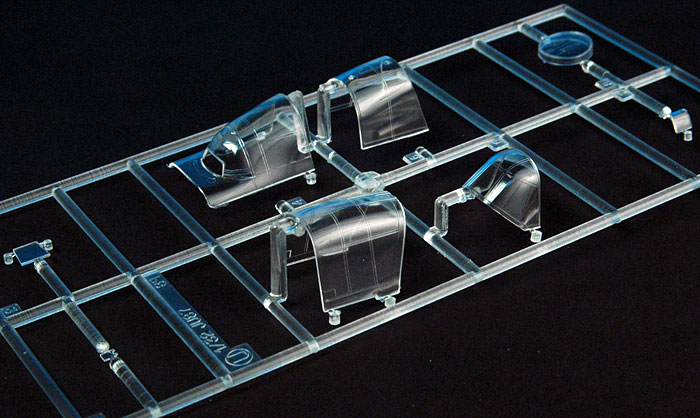 The shape of the overall airframe looks very good. I am certain that we will see a very detailed analysis of the profiles and contours of important details including the spinner, prop blades and more over the coming months.
Kit engineering is necessarily robust. A chunky spar supports the wing parts and should ensure the perfect angle for the characteristic reverse gull.
Markings are supplied for two aircraft - Rudel's <- + -, and GS + MD.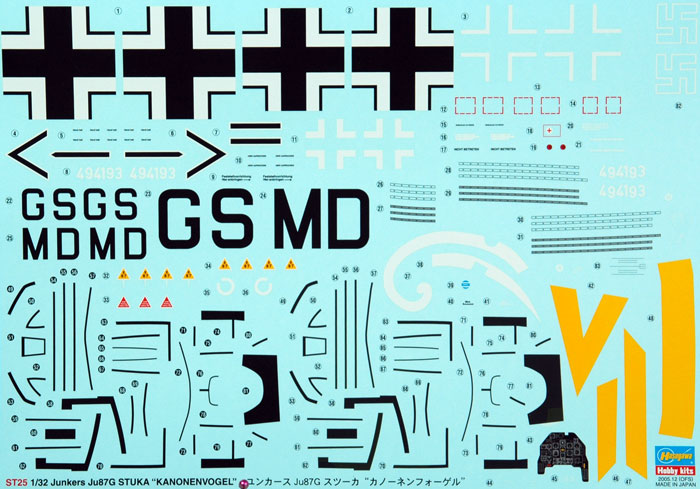 Both aircraft are finished in 70/71/65. Hasegawa supplies full-size templates for camouflage masks on the inside rear page of the instructions.
Hasegawa has adopted a consistent strategy of designing their new 1/32 scale kits to be accurate in outline, simple to build, reasonably detailed and affordable. Indeed, their recent Fw 190A/D and Bf 109G/K kits have not been equipped with astonishing detail, multimedia parts, movable control surfaces, retracting undercarriage, flashing lights or engine sounds.
They have, instead, focused on the basics; and modellers have built these kits in extraordinary numbers.
Hasegawa's new 1/32 scale Ju 87G continues this approach. At 225 parts, the big new Stuka is more complex than the earlier 109 and 190 kits, but the construction sequence is not scary at all. This looks to be an eminently buildable kit.
Hasegawa has also clearly taken a look at good hard look at comments on their earlier 1/32 scale efforts and the newly emerging competition. The revised surface detail, with rows of subtle rivets, seems to be a direct response to both a current modellers' trend and the standard approach of their Chinese rival. It is also pleasing to see that some areas that had been typically oversimplified in earlier kits (such as the tailwheel) received more thorough treatment on this new Stuka.
After-market companies have embraced 1/32 scale with a flood of updates, conversions, alternate markings and improved parts for modellers who want a more detailed result. I am sure that we won't be waiting long to see superdetailed cockpits, unspatted undercarriage legs, perforated muzzle brakes and more for Hasegawa's big Stuka.
Also, the parts breakdown suggests that we will see a Ju 87D as well as B/R variants some time in the future.
Congratulations Hasegawa. In my opinion (for all that is worth), you have once again applied the magic formula for bringing joy to the heart of the New Age Luftwaffe Modeller!
Highly Recommended.
Review kit purchased with the Editor's funds
---
Review and Images Copyright © 2005 by Brett Green
Page Created 03 January, 2006
Last updated 03 January, 2006
Back to HyperScale Main Page
Back to Reviews Page