AMtech's 1/72 scale Junkers Ju 88H-3/4 Fuhrungsmachine
may be ordered online from Squadron.com

The Junkers Ju 88H series was a long-range, "stretched fuselage" variant of the Ju 88 family.
The intended roles for the H-3/4 variants were long-range search, Zerstorer and Mistel. It is believed that several Ju 88H-4s were completed before the end of the war in Europe.
The concept of a "parasite fighter" dates back to WWI, but was rarely implemented in practice. Similar to the Mistel concept, a fighter aircraft would piggyback the Fuhrungsmachine, and detach if the mother ship was attacked by enemy fighters. With the substitution of a Mistel warhead, the Ju 88 was transformed into a gigantic, long-range bomb.
AMtech is about to release this fascinating aircraft in 1/72 scale. I just received an early production shot of the sprues and the decals.
AMtech's 1/72 scale Ju 88H-3/4 kit comprises 108 injection moulded styrene in light gray sourced from other Ju 88 variants); plus 24 injection moulded parts in darker grey. These dark grey parts are newly tooled from AMtech. 8 parts in clear injection moulded plastic are also supplied.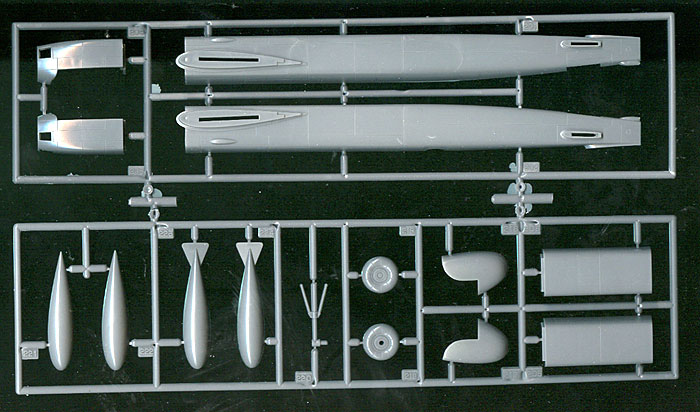 The light grey parts include the wings, engine nacelles, tail surfaces and undercarriage. In effect, what we are presented with is the entire AMtech 1/72 scale Ju 88S-3/T-3 kit, plus tail surfaces from the AMT Ju 88G. The new parts cover the fuselage, fuselage extension plug, the nose, radome, the third main gear leg and wheel, large auxiliary fuel tanks, optional Mistel warhead and the mounts for the piggy-back fighter.
All the parts are produced to a very high standard with crisply engraved panel lines. There are no nasty ejector pin marks in visible positions, and the only imperfection I could only find was one minor sink line on each fuselage extension plug. The light-coloured AMT styrene is quite soft and presented in a satin finish; while the new-tool parts are a glossy, "Tamiya" grade of slightly harder (but not brittle) plastic. This seems to be the same material used for AMtech's Ta 183, which was some of the most luxurious styrene I have had the pleasure to work with.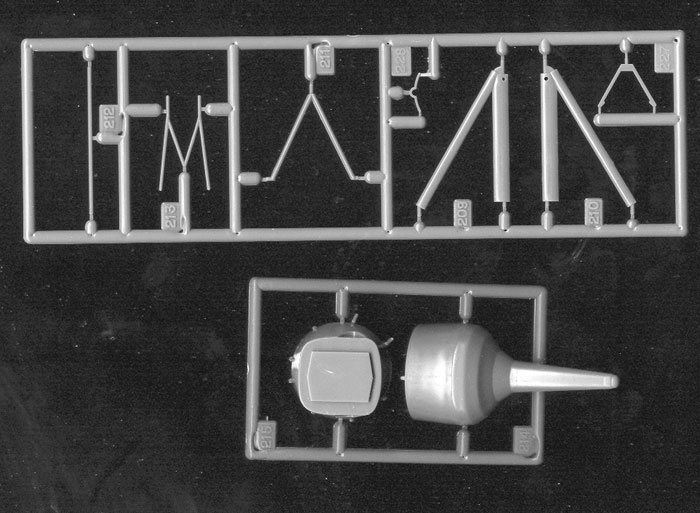 The general level of detail is fine for this scale. The cockpit is quite good, but the seats are too thick and slab-sided. The new mounting struts look great, but some of them are very delicate so care will be required when removing them from the sprues. The edges of the radome are bevelled where they meet the fuselage. This should be a simple and good-looking installation.
Please note that the kit does not include the parasite fighter. AMtech's instructions discuss the location points for mounting a Focke-Wulf Fw 190A, but you might also consider a Fw 190F. As there were no photos of the H-4 combination, you could even use your imagination and install an alternative fighter such as a Bf 109G-10. I would suggest the Revell 1/72 scale Fw 190 and Bf 109G-10 family as inexpensive and nicely detailed "riders" for your Fuhrungsmachine.
Markings are supplied for three options - two Fuhrungsmachine H-4s and an H-3 Mistel. All the schemes and markings are somewhat spurious because there are no photos or records of the aircraft in service, so you can either use AMtech's suggestions or employ your own artistic license and your decal spares box! I have used AMtech (and DAM) decals on a number of occasions and they have always behaved superbly.
This will be a model that will draw comments at your model club. With its fuselage extension and parasite fighter it will also be impressively large, even in 1/72 scale.
AMtech's 1/72 scale Ju 88H-3/4 Fuhrungsmachine is a good quality model of an interesting subject that should appeal to both late-war Luftwaffe and Luft-46 modellers. I will look forward to seeing lots of weird and wonderful Fuhrungsmachine colour schemes in the coming months!
Recommended.
Thanks to Alan Griffith of AMtech for the pre-production review sample.

---
More information about this and other releases may be seen
on AMtech's website http://www.amtechmodels.com
---
Text and Images Copyright © 2004 by Brett Green
Page Created 10 March, 2004
Last updated 08 April, 2004
Back to HyperScale Main Page
Back to Reviews Page