Mig-31 Foxhound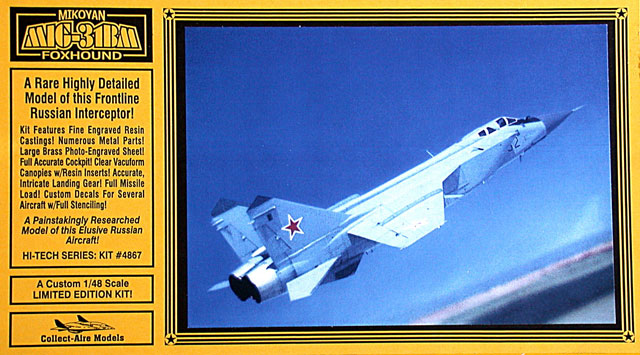 Collect-Aire Resin, 1/48
S u m m a r y

Catalogue Number:
Kit no. 4867 - Mig-31 Foxhound
Scale:
1/48
Contents and Media:
80 parts in injected grey styrene; 16 parts in cream-coloured resin; 3 clear parts; markings for three aircraft.
Price:
USD$189.95 from http://www.collectaire.com
Review Type:
FirstLook
Advantages:
Important but until now neglected subject; good detail; recessed panel lines; high quality instructions
Disadvantages:
No tabs or alignment aids for major components; some preparation required
Recommendation:
Recommended to modellers with some experience working with short run kits.
Reviewed by "Bondo" Phil Brandt


HyperScale is proudly supported by Squadron.com
The Mig-31(NATO "Foxhound") traces its ancestry to the Mig-25MP, an airframe which although resembling the original Foxbat series, was in fact completely new. The new intakes, for instance, contributed twenty-five percent of the airframe's lift at speed. A new wing was cambered, slimmer and much stronger that of the Foxbat. The backseater's crew position was fully equipped with flight controls and a periscope, negating the need for a separate Foxhound training version. The Mig-31's phased array radar was a Soviet first, as were the four underbelly-nested R-33 missiles, interestingly resembling the U.S. Navy's AIM-54 Phoenix beyond-visual-range air-ro-air weapon. The main landing gear, totally different from the Foxbats, consisted of tandem staggered two-wheel bogies.

First flown in 1975, the Mig-31 showed significant promise and was immediately put into production. Many experimental Foxhound airframes appeared over the following fifteen years, but the definitive operational version was the Mig-31B, introduced in 1990. Although the Foxhound's role has been supplanted to some degree by the newer Su-27 Flanker series, it continues as a frontline heavy interceptor.
It has been a long time since Lindberg released an inaccurate-and-simplistic 1/48 injected Foxhound kit. To be fair, though, at the time little information about the airplane had been officially released. Now, with the long awaited (approximately three years!) release of Collect-Aire's definitive resin Foxhound, the Lindberg kit can safely be resigned to the spares pile, of realistic use only to "practice bleeders" or collectors. And, speaking of "practice bleeding, prior to Collect-Aire's announcement, this curmudgeon had been well on the way to converting the Lindberg kit into the ultimate Foxhound version, the Mig-31M which, although a superior weapon system, probably will never see production because of financial realities in Russia.

As with other Collect-Aire kits in the Bondo Industries "to do" production stash, there is always a thrill when the chrome yellow box is first opened to reveal an esoteric aviation subject which has a high probability of never being produced in plastic. Unfortunately, closer inspection of said kit components often tempers that excitement with the realization that the kit will rigorously test one's building skills in many of the usual Collect-Aire ways. This being said, the not-inexpensive Foxhound kit shows obvious improvements over previous releases.
---

Molding
This is a big airplane! The kit, developed by the LF Company in the Czech Republic, features molding (done in the U.S., the writer understands) which compares very favorably with that of other first rank resin kit manufacturers. Engraving is very petite, easily equal to the best injected kits.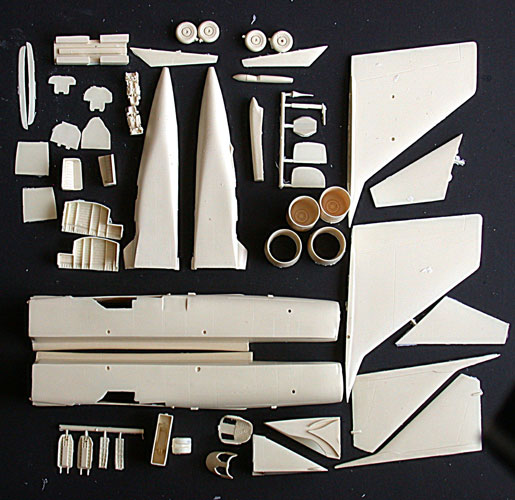 Warpage is absolutely minimal (slight bending of one stabilator), and resin voids are few and far between, mostly on the mounting spines of the R-33 missiles, and these will be hidden.
---

Fit
Although this is an OOB review, and overall dry fit seems decent, I must report that there is an annoyingly significant thickness discrepancy in the mid-fuselage spine cross section where it joins to the separately cast aft spine. That is, the thickness of the aft spine is almost 1/16 inch wider. Assuming the forward spine thickness is correct--if it isn't, the fix will be much more demanding--this will require cutting the aft spine in half lengthwise and then sanding the inside surfaces until the appropriate mating thickness is achieved. I've seen this type error before in Collect-Aire kits; it almost always involves solid semi-cylindrical parts that are cast in two operations such as rockets and jet engine pods (those J60 pods on the RB-57F, for instance, whose cross sections are "squished" horizontally).

Other fit issues are documented in the instructions (a welcome first, in my experience, for Collect-Aire) such as modifying the cockpit tub, tub mounting chines on forward fuselage halves and the nose wheel housing.
---

Fuselage
The fuselage is in four large pieces, two forward and aft halves. Intake trunking is non-existent; two simple blanking plates are glued roughly two inches rearward from the intake lips. If trunking is desired, epoxy putty and plastic sheeting is the way to go. Or, the builder could simply do the old FOD cover trick and bypass everything!
---

Wings
Wings are clean, one-piece components ; no positionable slats or flaps. Large wing fences are to be added, their location spelled out by cast-in wing grooves. Large pylons and smaller L-shaped mounts are included for mounting the Aphid missiles. Although shown in enclosed three-view drawings, external tanks are not included.
---

Landing Gear
Many, many small cast metal parts assemble into the complex main bogies, but the exploded assembly diagrams should answer most questions. Required metal cleanup seems minimal. Main wheels, although generally OK, appear to have been cloned and are not totally accurate when referred to photo references. Strut mounting holes have been revised in the instructions. A thin, nicely done resin nose wheel mud guard is included. The detailed two-piece main gear wells are a big improvement over many past C-A releases and deserve special recognition. LF has captured the corrugated metal sides of the wells very accurately, and the "busy-ness" factor is very satisfying. Same, same for the positionable speed brakes and maingear doors, all of which have delicate structural details cast into the inner sides. Even the nosegear well is busier than normal, and the front gear door even has landing/taxi light details on the back.
---

Cockpit
As mentioned above, modifications spelled out in the instructions are required to both the tub and the mounting surfaces on the fuselage halves. Additionally, no cast-in guides are included for fore-aft locating of the tub, but a drawing shows the relative positions of bulkheads and should be sufficient.

Collect-Aire has come a long way in the development of multilayered PE detail components, and a large fret is included with this kit. Both multipiece instrument panels, four consoles and two sidewalls (front cockpit only) add a lot to the large cockpit. Printed paper instruments are placed behind the PE ala Eduard. I do wish Collect-Aire would move to film instruments (again, as in the case of Eduard) as the printed paper ones are not as realistic because too much white shows around the circumference of each individual instrument hole. This BTW is the same situation Bondo encountered when building the C-A Fencer. PE sidewall locating is not as well documented as it could be, and the builder should refer carefully to pix of same as seen in World Airpower Journal, etc.

The K-36D seats may have been cloned, because the level of detail is not usually seen in C-A cockpits. In addition, PE belts and harnesses are included, which, if used, would force the builder to Dremel off the not-bad resin harnesses already cast-in. Control columns are of cast metal.

The canopies (three copies included) are vacuformed in one piece, allowing the builder to choose closed or, by cutting, open configurations. In the case of the open canopy arrangement Collect-Aire has included very welcome resin interiors which add realistic thickness for each canopy. Even quilted padding details are included in these interior resin pieces. There doesn't seem to be any detailing between the back of the pilot's bulkhead and the forward face of the backseater's panel, so it's references and Scratchbuild City.
---

Exhaust
Nicely done exhausts are two-piece (AB cans and separate nozzles) with realistic depth and cast-in turbine faces. Additional information is furnished (with patterns) for those who wish to superdetail the splitter plates seen between the exhausts of some late-model Foxhounds,
---

Weapons / Armament
Four multipiece (resin/PE) R-33 long range missiles are included as well as four smaller all-resin Aphid IR close-in missiles. It's disappointing, though, to discover that no detailing whatsoever is included for the R-33 missile trapezes which retract into the under fuselage. I say "disappointing" because this trapeze detailing is included in both 1/72 injected Foxhound kits done in the Ukraine. Scratchbuild City again!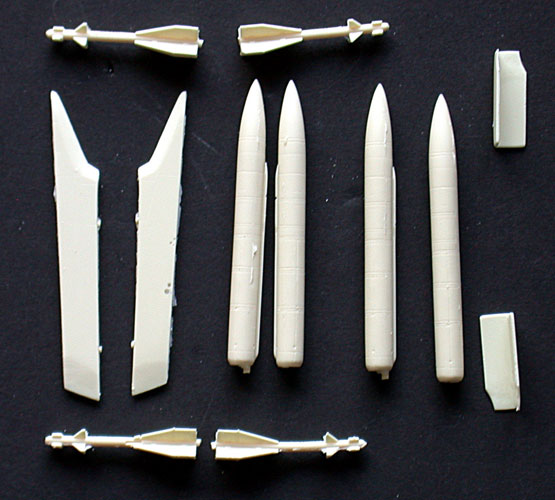 Pix at Bondo Industries show slots in the under fuselage for the main fins of the two aft R-33 missiles, but there are none in the C-A offering. Perhaps the reference pix are from pre-production/demo airframes.

A nice GSh-6-23six-barrel cannon is a separately added component.
---

Decals
A wealth of markings possibilities and stenciling await the final efforts of the builder; two large sheets are included.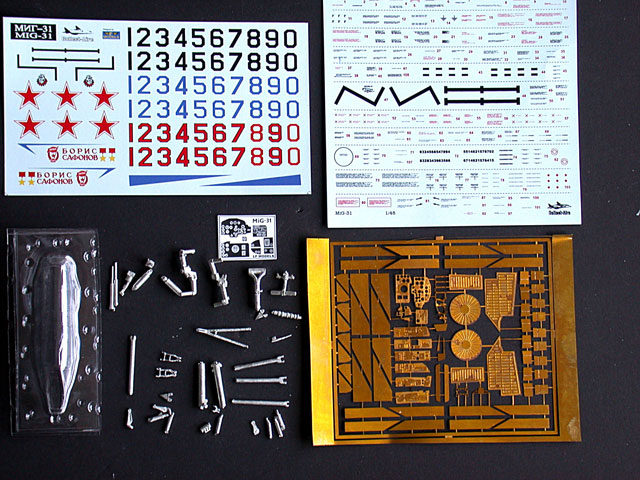 ---

Instructions
Retired Big Blue tech writer Bondo is fairly particular regarding instructions, and the Foxhound instructions and diagrams are certainly a big step up from earlier releases which sometimes have featured simplistic, rather crudely drawn diagrams. It appears that the writer--I understand that the talented Gerry Asher of Fox 3 Studios in Fort Worth did the job--built (or at least carefully examined components!) the kit as he penned the instructions; a peer review as it were, because the kit corrections prominently include revisions such as relocating the main gear strut attachment points and grinding down locating chines for the cockpit tub. Overall, a BIG improvement!
In the past this writer has stated that, in contemplating the "investment" in and building of most Collect-Aire kits, expect to take a resin "beating." That's still somewhat true even with this new, improved Evil Empire release, but now the "beating" is more like a "love tap." Be this as it may, those of the Tamiyagawa faith still need to imbibe a healthy dose of caveat emptor before starting such a project.

Today's modelers are truly fortunate that there are small companies like Collect-Aire willing to take the financial and developmental risks to produce desirable, "road-less-traveled," subjects. This kit is hereby awarded the prestigious Bondo Industries Stamp of Approval! :))
---

References:
World Airpower Journal, Vol 13, Summer 1993
World Airpower Journal , Vol. 34, Autumn/Fall 1998
Ken Duffy's Soviet Pix section, http://www.lindenhillImports.com
"Mig 31", Przglad Konstrukcji Lotniczych, 1/93, ISSN 1230-2953
---
Review Text and Images Copyright © 2005 by Phil Brandt
Page Created 23 August, 2005
Last updated 23 August, 2005
Back to HyperScale Main Page
Back to Reviews Page