MPM Preview
Selected Forthcoming Releases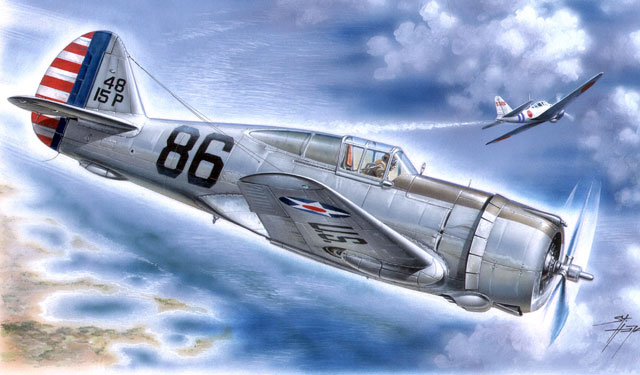 HyperScale is proudly sponsored by Squadron.com

The MPM group of companies includes MPM itself, Special Hobby, Azur, CMK, HML and several other brands.
MPM has announced the following forthcoming kits due for release during October:
Special Hobby #SH 48040 1/48
Fokker B II series 03.60 "K.u.K. Fighter and Trainer Plane"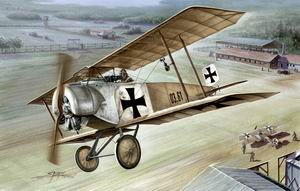 During the Great War, the Austro-Hungarian air force turned not only to domestic producers, but also to German manufacturers with orders for aeroplanes. One of the German manufacturers was the famous Fokker factory. This firm supplied the A-H air force with a small number of its Fokker D.II planes. In A-H however, it was designated the B.II. The B.II planes were delivered in two versions with a nine-cylinder engine and twin-bay wings - series 03.55 and with seven-cylinder engine and one-bay wings - serie 03.60. This latter version is depicted by our model.
The model contains mouldings for a Fokker D.II, a frame with the new wings, a large quantity of castings, from which you will assemble the engine and the interior, as well as photo etched parts. The decals offer the option of three machines in natural fabric colour. Only one was armed, in addition it had also a different rudder, which is depicted in the kit.
---

Special Hobby #SH48057 1/48
Brewster Buffalo Model 339-23 "RAAF and USAAF markings"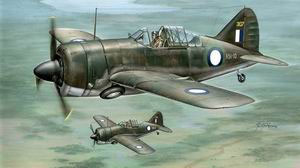 The very successful high quality model of the Brewster Buffalo is offered with alternative parts to build the landplane version model 339-23. The machines were originally ordered by the Dutch East Indies, but after their occupation the machines served in Australia with the RAAF and USAAF.
Decals offer options for four machines, one of them is a variant for reconnaissance photography. Three machines are camouflaged, the fourth is in natural metal. The model is complemented by PUR and coloured photo-etched parts.
---

Special Hobby #SH72110 1/72
Fiat G.55 sottoserie 0 Centauro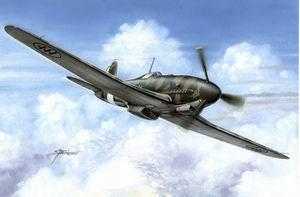 One of the best Italian fighters was first manufactured armed with one cannon and four machine guns as the G-55 Sottoserie 0. About 30 examples of this preseries were manufactured. It was used by the Italian Reggia Aeronautica as well as by the Aeronautica Nazionale Republicana (air force of the Italian Socialist Republic - Mussolini´s puppet state in northern Italy).
The model is laid out in two frames, it is complemented by PUR parts, including a new nose and fin unit for the G 55 Sottoserie 0 as well as photo-etched parts. Decals offer a choice of three machines. The camouflage of each machine is very interesting. First is the MM492 prototype in "lizard" camouflage, the second machine in two variants of markings flew with green upper and grey lower surfaces. The third machine is in Luftwaffe style camouflage with ANR marking.
---

Special Hobby #SH32003 1/ 32
Curtiss P-36A Hawk "Pearl Harbour Defender"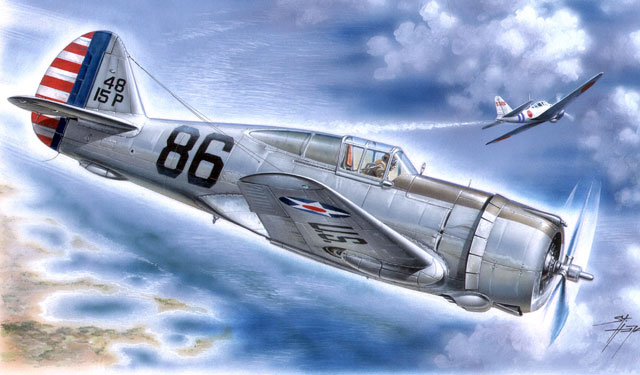 The P-36 was a famous fighter from the firm of Curtiss. In 1/32 scale, it is the first injection moulded model of this fighter. The model is very detailed, it includes 4 frames of parts, one frame of injected clear parts, a casting with small PUR parts and a coloured photo-etched part. The decals depict the two P-36 Hawks of 2/Lt. H.W.Brown (2 victories) and Lt.P.Rasmussen (1 victory) who, on 7.12.1941, flew in defence of Pearl Harbor. One of them is in natural metal, the other is camouflaged.
---

Coming in November 2005
Special Hobby #SH48058 1/48
Loire Nieuport LN40/401

Special Hobby #SH48055 1/48
Polikarpov I-15bis/152 "Rare Detailed"

Special Hobby #SH72103 1/72
Hawker Tempest Mk.II

MPM #72536 1/ 72
US attack bomber A-33/Norwegian DB 8A-5N /Iraqi DB 8A-4

Thanks to MPM/CMK for the Preview information and images
---
Text and Images Copyright © 2005 by Brett Green
Page Created 19 October, 2005
Last updated 19 October, 2005
Back to HyperScale Main Page