Curtiss Hawk 81
P-40B AVG "Flying Tigers"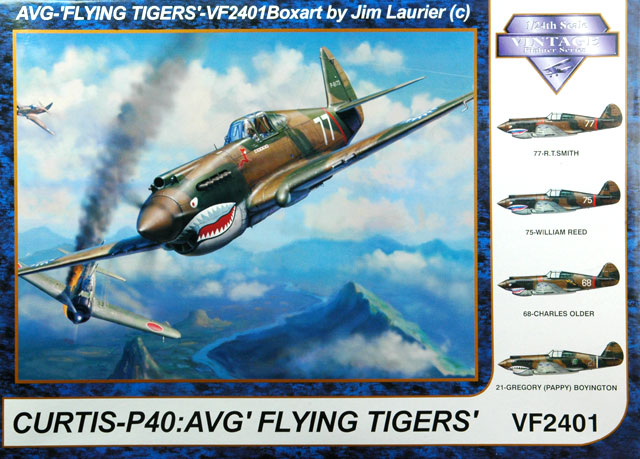 Vintage Fighter Series, 1/24 scale

S u m m a r y

Catalogue Number:
VF2401
Scale:
1/24
Contents and Media:
Eleven sprues in light grey injection moulded plastic, six parts in clear, one small photo-etched fret, printed acetate instruments; markings for four aircraft.
Price:
USD$107.97 from Squadron.com
Review Type:
FirstLook
Advantages:
It's big; well-detailed engine; simple parts breakdown and assembly sequence; excellent decals; attractive box art; nice attempt at windscreen (accurately depicting no external front frames); hollow exhausts; clear instructions
Disadvantages:
Shallow cockpit with correspondingly undersized components; inaccurately raised panels in a number of areas; very heavily engraved panel lines, especially on the fuselage; some soft and/or understated details in a number of areas; incorrect spelling of Curtiss P-40 on box top!
Reviewed by Brett Green


Vintage Fighter Series' 1/24 scale Curtiss P-40B is available online from Squadron.com
The Curtiss P-40 might not have been the most advanced, glamorous nor fastest fighter aircraft in 1941, but it admirably bore the brunt of air battles with the Luftwaffe in North Africa, and the Imperial Japanese Army Air Force in the Far East, during a critical phase of the Second World War.
The P-40 has fared very well in plastic over the last 12 months, with a new 1/48 scale P-40B from Trumpeter joining their earlier 1/32 scale kit; plus two very nice releases from Hasegawa - a P-40E and P-40N Warhawk.
Vintage Fighter Series' P-40B (technically, as an AVG machine, it is actually a Hawk 81) is the first mainstream offering of any Tomahawk or Warhawk in 1/24 scale.
The box is large and sturdy. Packed under the cover, adorned with a very attractive painting by noted aviation artist Jim Laurier, the kit comprises 11 sprues in light grey plastic, six parts in clear, a photo-etched fret and a small printed acetate sheet for the instruments.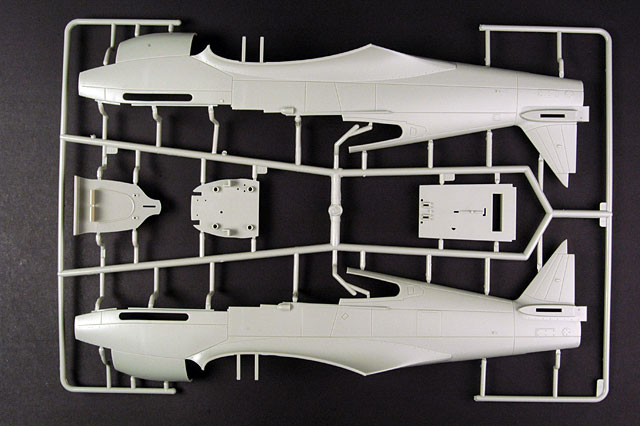 Click the thumbnails below to view larger images:
---
Surface detail is by way of recessed panel lines. Panel lines on plastic models are largely a matter of personal taste, but to my eye these lines seem to be too deep and heavily pronounced. The fuselage suffers most in this respect. I would be tempted to fill the fuselage panel lines and rescribe prior to assembly. The canopy rail behind the canopy is more like a ledge to permit the sliding section to open and close. I suspect that many modellers will trim these large protrusions.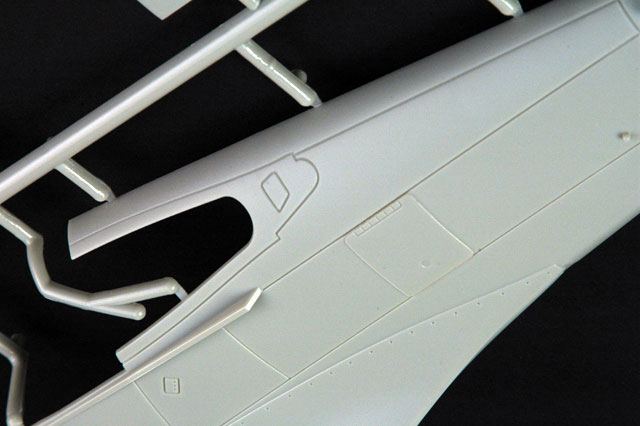 Also, several panels, including the radio access hatch and inspection panels on the empennage, are raised. These should be flush with the surface of the fuselage. It will be a fairly simple matter to scribe around the raised panels then sand the raised sections flat. Another surface oddity is the rows of massive raised pins - I assume they are supposed to be rivets - on the drop tank.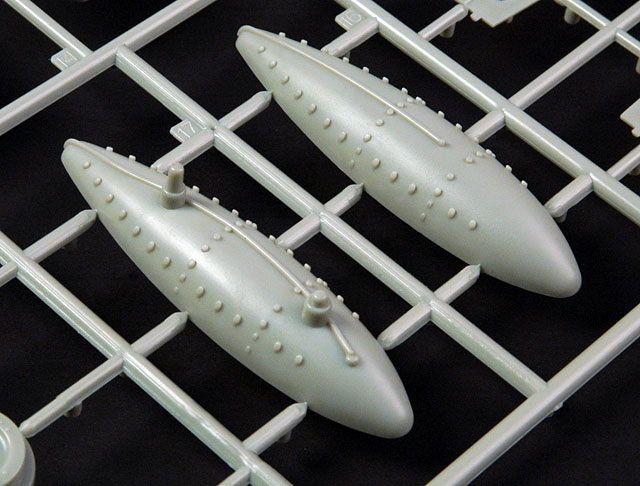 Control surfaces are moulded separately, with fabric surfaces represented where appropriate. Once again, the fabric texture looks too heavy to my eye. Some sanding down will help soften the effect. The control surfaces have moulded-on plastic hinges, which should make assembly much easier than its 1/32 scale Trumpeter counterpart. In common with the Trumpeter kit, the flaps feature a photo-etched insert to blank off the fuselage interior - a nice touch.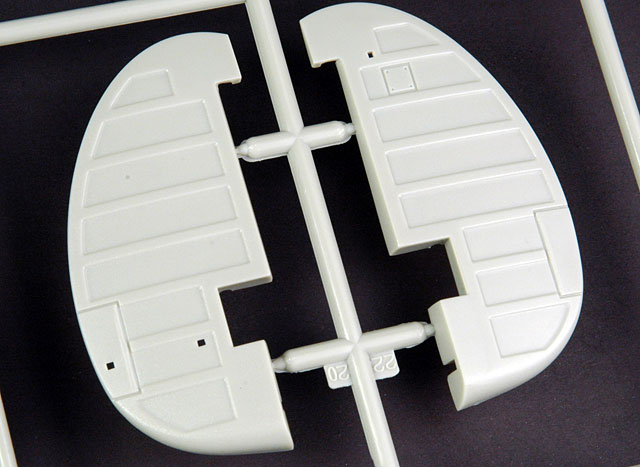 The photo-etched fret includes the ring gunsight. Intake grilles are also supplied in photo-etch.
The front office repeats the error of Trumpeter's 1/48 and 1/32 scale P-40Bs, with the entire cockpit being around one-third too shallow. This means that all the vertical cockpit components are very noticeably compressed. This is most obvious when examining the squat seat and short cockpit sidewalls.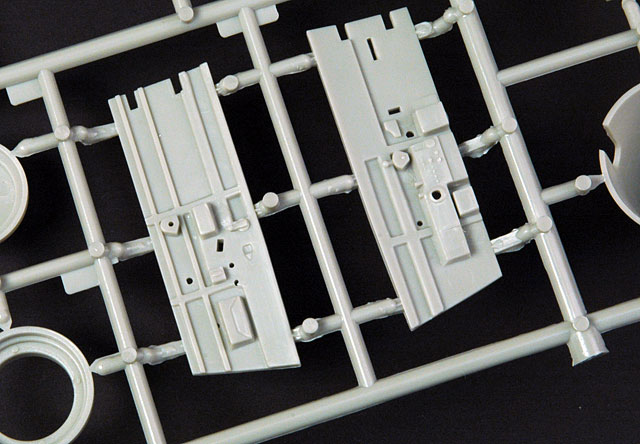 Vintage Fighter Series has also followed Trumpeter's approach with their instrument panel. The panel is moulded in clear plastic, which seems like a good idea until you realise that the lenses for the dials are actually vacant holes. I would have thought that the benefit of a clear instrument panel was that the clear lenses could be masked and the panel painted around them.
The windscreen of the early P-40 is correctly depicted without external forward frames, and with separate armoured glass on the inside. The method of attachment for the armoured glass is not 100% accurate, but it is a clever approach to a tricky problem that will look convincing when assembled and carefully painted.
The engine looks very nice indeed. The top cowl is a separate piece, so if you want to expose the engine further you will need to cut out one or more of the engine cowl panels. Fortunately, the size of those panel lines will provide an unmistakable cutting guide! The two-piece exhausts with hollow stacks look great too.
The kit is broken down conventionally, with a full-span lower wing, separate upper wing halves and an insert for the distinctive chin intake. Sprue attachment points are quite fine and will be easy to clean up, but there are a lot of them!
Although Vintage Fighter Series does not offer machine gun bay detail, the wing guns are supplied with moulded-on breeches. If you are not planning to cut open the wing and scratch build detail in the gun bays, I would recommend cutting the barrels off the breeches and gluing them into the wings from the outside when the kit is nearly finished.
The wheels are provided in three parts each - a vinyl tyre plus a part for each side of the wheel hub.
The decals are very nice indeed, with four alternative sets of markings provided for AVG - "Flying Tigers" - machines. The full-colour marking guide is equally attractive.
Two seated pilots are included - one AVG and one RAF - but they are poorly detailed by today's standards.
I have not touched on accuracy for this initial "look in the box".
Vintage Fighter Series 1/24 scale P-40B has the benefit of imposing size, plus some nice features including separate control surfaces, well detailed engine and excellent decals. The relatively simple parts breakdown, and lack of metal hinges should also ensure that the kit is not too difficult to build.
The most noticeable error - the shallow cockpit - is surprising because there has been so much discussion about this issue since the release of the Trumpeter kit. Some modellers will also want to address the deep panel lines, raised hatches and fabric texture, but I am sure that many others will be happy to build the kit straight from the box.
I suppose comparisons with Trumpeter's 1/32 scale P-40B are inevitable. In my opinion, the Trumpeter kit is better (more crisply) detailed, but the two kits are otherwise remarkably similar in features and approach - and even minor errors. Where they do differ, it generally seems to be a case of swings and roundabouts - for example, Trumpeter's rows of recessed rivets compared to Vintage Fighter Models' wide panel lines. Some modellers will prefer one approach to the other, but it is mostly a matter of personal taste.
In summary though, if you are a P-40 fan and have always wanted a 1/24 scale Tomahawk, you finally have the chance to build one.
Thanks to Squadron for the sample.
---
Text and Images Copyright © 2005 by Brett Green
Page Created 24 June, 2005
Last updated 24 June, 2005
Back to HyperScale Main Page
Back to Reviews Page