IMAM Ro.37 & Ro.37bis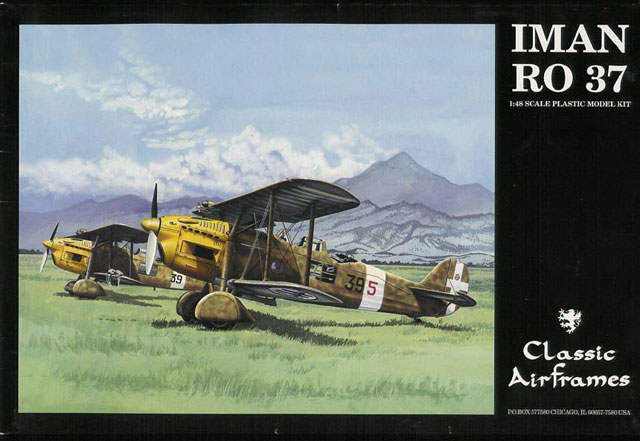 Classic Airframes
S u m m a r y

Catalogue Number:
Kit Nos. 468 (Ro.37), 469 (Ro.37bis)
Scale:
1/48
Contents and Media:

Kit 468 - 53 parts in gray styrene, 11 parts in cream colored resin and Kit 469 - 51 parts in grey styrene, 12 parts in cream colored resin. Each kit also has 42 etched metal parts, 4 printed film, 5 injection molded clear parts, instructions, decal sheet and painting guide for 3 aircraft.

Price:

MSRP USD$

50.00

Review Type:
FirstLook
Advantages:

No one else will produce a model of this aircraft in 1/48 scale!

Disadvantages:

Poor packaging of resin and clear parts; lack of white background on the national markings and no instructions for the rigging.

Recommendation:
Highly Recommended
Reviewed by Steven "Modeldad" Eisenman

Classic Airframes' 1/48 scale Ro.37 and Ro.37bis kits may be ordered online from Squadron
Jules Bringuier is considered by many to be quite successful in his Classic Airframes venture.
Usually, when a businessman is successful, he will go out and buy a new car, or at least a new set of golf clubs. Not Jules. Success for Jules means being able to bring out a model of perhaps one of the most unknown combat aircraft of the Second World War period. Furthermore, its combat role was basically limited to action against Ethiopia's and Somalia's primitive armed forces and during the Spanish Civil War. I'm looking forward to the numerous postings as to why Jules did not bring out ………..(fill in the blank) instead of this; what ever this is.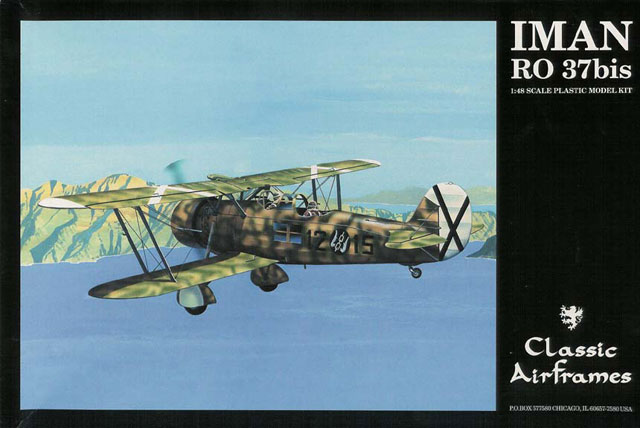 As to what this thing called an IMAM Ro.37 is, finding that out is a venture into the great unknown of space. Basically it is a reconnaissance aircraft that also did duty as a light bomber. I did, however, stumble across and old on-line article on the Ro.37 in the Chandelle Journal of Aviation History ( http://www.chandelle-jah.com/ ).
http://www.worldatwar.net/chandelle/v4/v4n1-2/ro37.html
My only comment on the article is that I have not seen any pictures or references to the Ro.37 with the Italian roundels.
By the way, IMAM stands for Industrie Meccaniche e Aeronautiche Meridionali
Classic Airframes' 1/48 scale Ro.37 kits are nicely molded in gray styrene and have finely engraved panel lines. The fabric wings and ribbing detail are also nicely done. There are the usual injection port pins that must be cleaned up on the inner surfaces of the wings. The injection gates are, however, quite small for a limited run kits and there is very little intrusion of the sprue onto the part.
The basic form of the kit is the radial engine version with the three bladed prop (Kit 469), which includes a very nice one piece engine. For the inline version with the two blade prop (Kit 468), you will need to do a little surgery, such that you remove the front of the fuselage by cutting along a panel line just behind the cooling vents. The inline nose is then attached.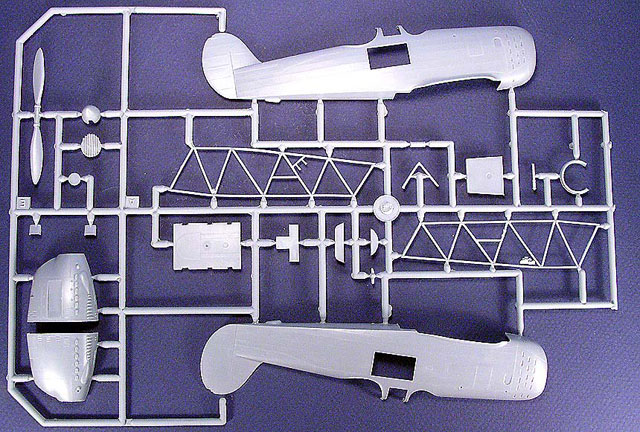 Click the thumbnails below to view larger images:
---
The cockpit is sparse, with injection molded framing for the sides. I'm not sure if this is a criticism, as I don't believe I have ever seen a picture of the cockpits of this aircraft. I would also tend to believe that it would be quite sparse. The Ro.37 was not exactly high-tech in its time.
The clear parts are nicely molded with prominent frame lines to aid in masking. They are also quite clear, and will get even better with a bath in Future.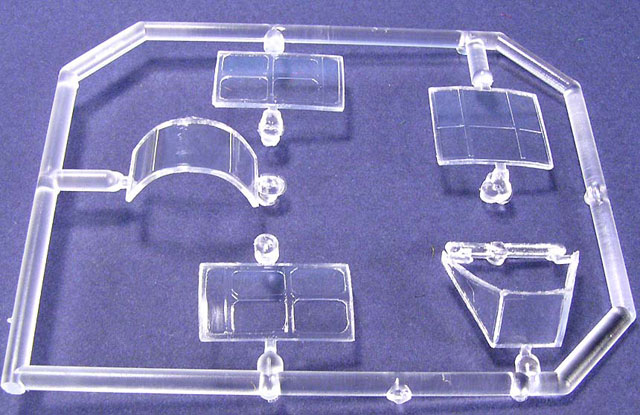 Click the thumbnails below to view larger images:
For those who love working with photo etched parts, these kits should make your day. There are multiple pieces to make up the Italian chain and strap style harness. Also, as this aircraft had spoke wheels, whether or not it had the wheel covers, you get full sets of wheel spokes.
Each kit comes with markings and painting guide for three aircraft. Note: Many of the aircraft had the topside camouflage wrap around the underside with only the underside of the wings, including the bottom wing center section in the underside gray color.

Kit 468 - Ro.37
39-9 of 39 Squadriglia, 5 Gruppo, Venaria Reale, Italy, circa June 1940 – This aircraft is in a wavy pattern of Giallo (Yellow - FS 33434), Verde (Green - FS34092) and Bruno (Brown - FS30076) Mimetico with Gigio Mimetico (Gray - FS36307) undersides of the wings.

25-7 of 37 Squadriglia, 72 Gruppo, 19 Stormo, Coritza, circa 1941 – This aircraft has a base color of Giallo with splotches of Verde and Bruno Mimetico. Wing undersides are Grigio.

39-5 of 39 Squadriglia, 5 Gruppo, 39 Stormo, Scutari, Montenegro, circa 1942. This is the aircraft on the box cover, and the color picture of the line up of this group of Ro.37 is often seen in publications. This aircraft has a Verde base color with random splotches of Giallo and Bruno. Wing undersides are Grigio. The nose is Giallo Cromo (Chrome Yellow – FS 33655 is a close match).
Click the thumbnails below to view larger images:
---

Kit 469 – Ro.37bis
115-6 of 115 Squadriglia O. A., Tament, North Africa, circa October 1940. This aircraft is in a Giallo base color with Verde splotches. The full underside is in Grigio Mimetico.

12*15 of Grupo 4-G-12, Spanish Nationalist Air Force, circa 1938. This aircraft is in a free style application of Giallo and Verde Mimetico. The underside is Grigio. On the cowl are the words "ALF F. SUAREZ PRESENTE". This was the aircraft of Commander Manuel Negron de las Cuevas. The inscription is to remember "Alferez" Andres Fernandez Suarez a pupil in a flight school who was killed in a landing accident. Note: The Nationalist Air Force often painted the propeller in the camouflage colors and pattern of the fuselage, while I do not know if this particular aircraft had its propeller so painted, pictures of other Ro.37bis indicate that the practice was common.

"Domino" 10 of XXVI Gruppo, 105 Squadriglia, Ethiopia, circa 1935. This is the most problematic set of marking, and clearly included out of love for this aircraft. The Ro.37 in Ethiopia were painted Bianco Avorio (Ivory White – FS33613) [Technically, prior to 1940 it was known as Cachi Avorio Chiaro – Light Ivory Kaki, but this description is not commonly used]. The color had a slight pink component when new, but faded under the sun to FS 33690, losing its pink tint. On the top of the upper wing were radiating bands of red, presumably for aiding in finding a lost aircraft in the vast expanse of wasteland. The fuselage had a bright green band, and on it was the aircraft's number represented by a white domino with black dots. The rudder carried the Italian tricolor. The reason this particular aircraft is a problem is that the fuselage from the cockpit back is quite different from the later Ro.37bis, as represented by the kit. The painting guide gives brief instructions on making the conversion. But, be warned, it will require a bit of work. It also had a two bladed prop, rather than the later three bladed prop. Considering that very few people, if any, could identify an Ethiopian based Ro.37, and considering how lovely the scheme is, I might just do one straight from the box, changing only the prop.
Click the thumbnails below to view larger images:
I do have three criticisms: 1. The clear parts are packed with all the other plastic parts, which can cause scratching. 2. The instruction do not provide a rigging diagram. 3. I hate using cut out masks for the white background on the Italian markings ( I keep a good supply of Italian marking for just this reason.).
Also, please note that the box refers to the aircraft as IMAN RO 37 and RO 37bis, whereas they should be labeled IMAM Ro.37 and Ro.37bis.
I am sure many of you are thinking "… of course Modeldad likes these kits, he has a thing for odd ball aircraft and he is a bit odd himself."
Truth be told, you'd be correct.
But even so, it is very nice to have something quite different come along, especially as the Ro.37 was part of the last of a breed - bi-planes used in combat.
The Ro.37 will look good alongside my Cr 32, and 42, Hs 123, Ar 68 and Gladiator.
Highly Recommended.
Ali Italiane in Africa Orientale 1935 – 1940; Carlo Lucchini; AES Albertelli Edizione Speciali "STORIA militare"; Parma; 1997. (OOP)

Regia Aeronautica Caccia & Assalto 1940-1943; Pt. I and II; P. Waldis & M. De Bortoli; La Bancarella Aeronautica; Torino; 2002.

Wings Over Spain; A. Emiliani & G. Ghergo; Giorgio Apostolo Editore; Milano; 1997.
Thanks to Classic Airframes for the review sample.
---
Classic Airframes kits are available worldwide through hobby retailers and from Squadron.com
---
Review and Images Copyright © 2004 by Steven Eisenman
Page Created 12 October, 2004
Last updated 29 October, 2004
Back to HyperScale Main Page
Back to Reviews Page