RAF SE5a
w/Hispano Suiza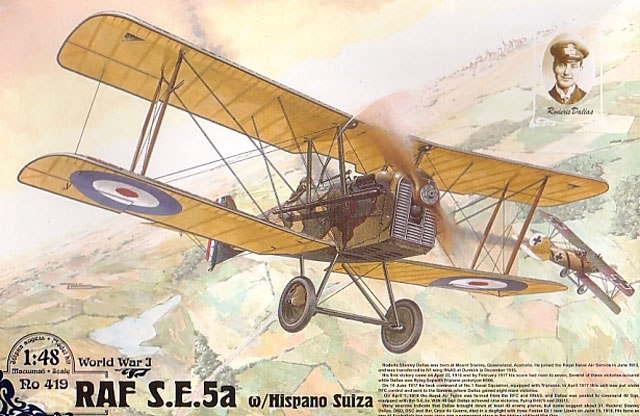 Roden 1/48
S u m m a r y

Catalogue Number:
Roden SE5a w/Hispano Suiza kit #419
Scale:
1/48
Contents and Media:
87 parts in injection moulded plastic; acetate sheet for windscreens; markings for three aircraft
Price:
USD$17.96 from Squadron.com
Review Type:
FirstLook
Advantages:
Well researched, excellent detail, new rigging diagram, six decal options.
Disadvantages:
Roundels still out of register
Recommendation:
Recommended

Reviewed by Robert Baumgartner


Roden's 1/48 scale RAF SE5a (Hispano Suiza version)
is available online from Squadron.com

Roden has followed on from their "Viper" kit with the much anticipated release of the Hispano Suiza powered SE5a. There are no new sprues to be found when one counts the 87 items. Instead the previous closed gates have all been opened to allow the full gamut of parts to be produced. Thus there are welcome spares everywhere!

New items include the radiator, a couple of types of four bladed propeller, engine cowls, short exhausts, small and long cord elevators, two more cockpit/deck arrangements, and off course McCudden's LVG C.V spinner.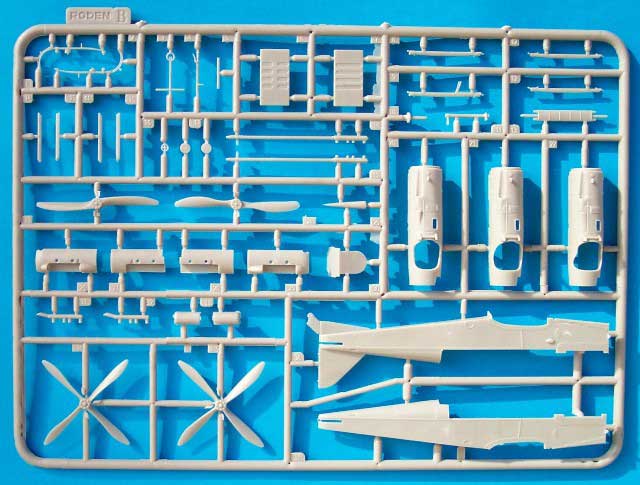 Click the thumbnails below to view larger images:
---
The rest of the sprue contains the familiar items seen in the earlier kit. Included are the row of 4 x 25lb Cooper bombs, headrest, separate wheel covers and both the steel and later wooden undercarriage legs. Roden's usual delicate machine guns can be found and the superbly done Foster mounting is as crisp as ever. This latter item comes with and without spacers.

An acetate sheet is supplied and this contains the windscreen as well as the "window" that allowed light into the cockpit area.

When properly scaled general arrangement drawings are used for comparison, it is clear that Roden have done their homework. The outlines of the major components match up very well. Due to the large number of manufacturers involved there can be slight differences between aircraft. For this reason it is imperative that the builder checks their subject carefully. One case in point being the access plates to the rear of the engine.

It is also commendable to see that Roden have continued to supply their corrected wing in this version. The flying surfaces of these components are very subtle with exquisite trailing edges. Both wings are moulded as one piece so there will be no alignment or dihedral problems. Although the ailerons are not separate, the elevators are.

Looking to the inside of the fuselage halves, one will find some useful structural detail. Thankfully this does not equate to sink marks on the outer surface. Instead we are treated to a subtle indication that this was a fabric covered airframe.

The usual office equipment is provided and these consist of the seat, rudder bar, control column, instrument panel and shelf.

To get the maximum use out of the moulds, the fuselage is broken down into sub assemblies. Although this may look daunting at first, a little patience is all that is needed to see things right.

One item missing from its predecessor was the rigging diagram. This time it is included and kudos to Roden for making the effort to include a comprehensive set of sketches.

To help keep the instruction sheet uncluttered, the painting guide lists a breakdown of which exhaust, prop, undercarriage, windscreen etc is applicable to each version.

The quality of the mouldings was excellent with the only blemish being a sink mark or two on the engine pieces.
Six aircraft make an appearance on the very large decal sheet.
The red centres to the roundels are printed separately and this nearly solved the registration problems. Sadly the blue was still slightly misprinted over the white portion of the roundels.

The carrier film is nice and thin and testing a sample item showed no potential trouble areas.
RAF SE5a D3511, (Vickers built)
40 Sqn RFC, Major R S Dallas, France, May 1918

On 8 May 1918, D3511 was used to shoot down an Albatros D.V., which became the first of five enemy aircraft in this machine. After his death on another aircraft, D3511 was used to good effect by Gwilym Lewis who managed to down a Fokker D.VII and LVG within a week of each other.
RAF SE5a B4891/"6", (RAF built)
56 Sqn RFC, Capt. J B T McCudden, France, February 1918

McCudden scored his first victory piloting a SE5a with this aircraft. He flew it from December 1917 until March 1918, before he left 56 Sqn. The white patches under the lower wing "6" are leftover markings of the letter 'G'. This letter was used as a Flight marking early in McCudden's use of B'4891. When the "G" was changed to a six, the spinner of an LVG was added, this being from an aircraft he had shot down the previous November. He shot down more aircraft (32) in B' 4891 than in any other machine he flew. After McCudden left, this aircraft had 2 more successes, this time in the hands of Major C M Crowe.
RAF SE5a D5995/"1", (Vickers built)
143(HD) Sqn RFC, Lt L Lucas, London Air Defence, April/May 1918.

Note that this aircraft was fitted with flame dampers.
RAF SE5a B507/"A", (Vickers built)
60 Sqn RFC, 2/Lt. J J Fitzgerald, France, October 1917

Fitzgerald had engine failure in this machine on 5 October 197 which forced him to land in enemy territory where the machine was captured intact by the Germans.
RAF SE5a B139, (Martinsyde built)
111 Sqn RFC, Palestine, January 1918

Photographs of this aircraft do in fact show that Roden are correct in depicting it with rack full of 25-lb Cooper bombs. At one stage of its life, B139 had what is believed to be an extra oil-cooling device mounted below the engine. This would have to be scratch built.
RAF SE5a B4863/"G", (RAF built)
56 Sqn RFC, Capt. J B T McCudden, France, September 1917
Nine victories were scored in B4863 between the 19th September and the 21st of October. The aircraft was eventually wrecked when it ran into a house while landing at night at 53 Sqn.
This is another fine effort from Roden and one that will be much sort after by modellers in this scale.
The finesse of the kit is first class and the subject matter is sorely needed.
The new wing and now the inclusion of a rigging diagram show that Roden are listening to those they are targeting.

Highly Recommended
---
Thanks to Squadron.com for the review sample.
---
Review and Images Copyright © 2004 by Robert Baumgartner
Page Created 10 August, 2005
Last updated 10 August, 2005
Back to HyperScale Main Page
Back to Reviews Page