RAF SE5 Early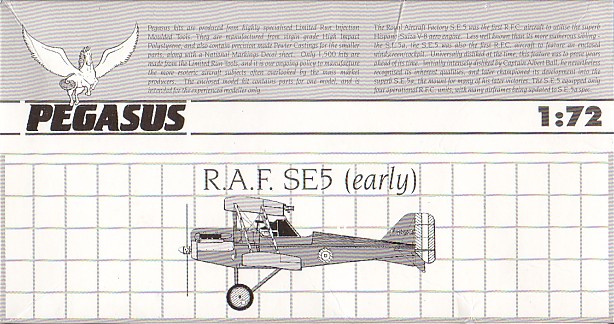 Pegasus
S u m m a r y

Catalogue Number:
Pegasus RAF SE5 (early) kit No.2025
Scale:
1/72
Contents and Media:
15 parts in soft grey coloured styrene; 13 parts in pewter
Price:
USD$24.97 from Squadron.com
Review Type:
FirstLook
Advantages:
Accurate mouldings, fine delicate detail, well-researched, different fuselage options.
Disadvantages:
"Greenhouse" not asymmetrical and needs minor reshaping.
Recommendation:
Recommended for experienced modelers.
Reviewed by Robert Baumgartner


Pegasus 1/72 scale SE5 Early is available online from Squadron.com
As with the Spad 7, the SE5 was designed around the historic Hispano-Suiza 150hp engine. The first unit to operate it was No.56 Squadron RFC and not all pilots received it enthusiastically. Captain Albert Ball described it as a "dud" and it wasn't until modifications were made that the pilots changed their opinions.

The new engine took some getting used to and the failure of the synchronizing gear in combat certainly didn't instill confidence. The semi-enclosing windscreen was universally disliked and was top of the list of items to be removed.

More changes were made as the aircraft continued its service life. These included the moving forward of the under carriage wheels, the addition of radiator shutters, an engine driven pump to replace the slipstream driven item and the top wing center section strengthened to withstand the operation of the Lewis gun. Different types of airscrew were also tried.

There were less than 60 production SE5s produced but they served to develop the machine into the formidable SE5a. Strictly speaking, only the first production batch of 24 aircraft could be classified as true SE5s.
This is because as far as the Royal Aircraft Factory were concerned; any aircraft that did not have the modified shorter wings was regarded as an SE5, regardless of the engine fitted.
This kit follows the standard Pegasus format with a mixture of plastic and pewter parts.
The former consists of 15 pieces in the usual soft grey plastic with the white metal component amounting to 13 parts.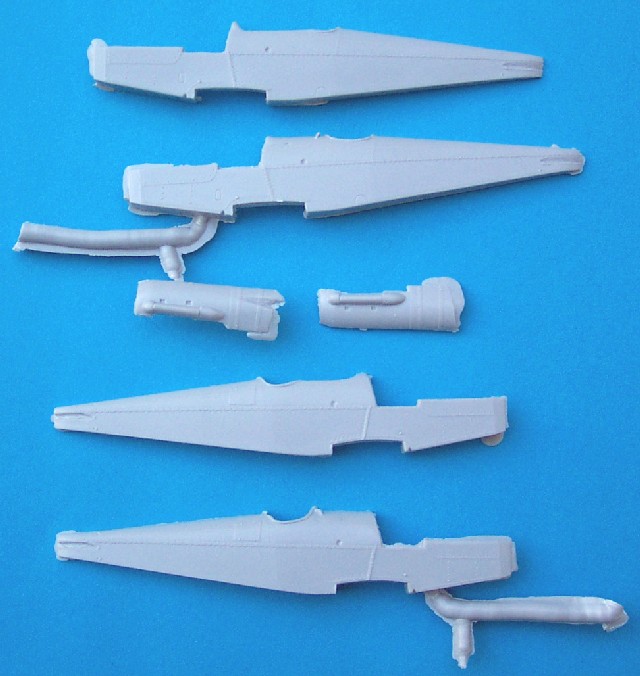 Click the thumbnails below to view larger images:
---
Two generous lengths of airfoil section plastic strip are supplied. Experience has shown that in this scale, these items work surprisingly well.

SE5 aircraft were very individual machines due to changes being made by crews out in the field. Some of these were official, others not so official.
Pegasus have chosen a single subject and created the kit around SE5 A'4855 as it could be seen with and without the large canopy. As a result, two sets of fuselage have been included so that the modeler can build this aircraft with or without the "greenhouse". Very thoughtful!

The included "greenhouse" is supplied in clear injection moulded plastic. Pegasus has done as well as can be expected in this scale but the part does look a little thick. A slight thinning of the frame edge at the pilot's viewpoint will greatly improve matters.

A more serious problem is that it is not asymmetrical. The port side should have a greater depth than the starboard side. This problem is reflected in the fuselage halves that accommodate this piece.
It's not too difficult to fix as the solution relies on removing rather than adding plastic. In this case it is from the starboard side of the greenhouse. As a consequence of this, some alteration to the cockpit opening will be needed to allow for a good fit of this clear part.

The windscreen is also a bit too bulbous on top when compared to photos and doesn't show the greenhouse's characteristic "flattop". Again, not hard to fix and only needs a few swipes from a file and then polishing to bring it back to its former clarity.

Both sets of fuselage halves follow the outline of the plans in the Albatros Productions Datafile on the subject precisely; the exception being the glasshouse cutout as mentioned above.
The stitching is very neatly rendered and there is a subtle rendition of the wrinkled fabric that can be seen on the original aircraft.

Sensibly both upper and lower wings each come in as a single piece. This assures that there can be no mistake with the complex dihedral that these items exhibit. The outlines are perfect and match those of the early type perfectly.
The trailing edges are as thin as this type of limited run moulding will allow but can be improved with some light sanding from below.
For the above reason, the delicate control horns are not present so modellers will have to fabricate these for themselves.

The pewter items consist of the under carriage, wheels, cockpit shelf, machine-guns Vickers and Lewis), exhausts, radiator and propeller. Each part is well cast and contains nice detail.
One option is catered for, being SE5 A'4855. It can be seen photographed at London Colney aerodrome on 7 April 1917. A headrest was fitted at this time and if modellers wish to depict it this way, this item will have to be scratch built.



A number of pilot flew this aircraft, among them being Lt. Cecil A Lewis MC, Captain Albert Ball DSO MC and 2/Lt. CRW Knight.
The later was able to share a victory in A'4855 over an Albatros on 24 April.
Not to be out done, Ball used this aircraft to score a victory when his own machine had been too damaged to fly. On the 2 May he was able to shoot down both a 2-seat and single seat Albatros.
A'4855 was again "on the podium" when Captain IHD Henderson used it for his victories on the 12 and 13 July.
To save costs, Pegasus supply the national markings seen in a previous kit of theirs and add the serial number on a separate sheet.
As usual, these hand printed items are in perfect register and have good colour density. The carrier film is commendably thin and no decal setting solutions are needed nor recommended.
The SE5 is a good choice for Pegasus as it is unlikely to be a subject tackled by any of the "mainstream" manufacturers.

The semi-enclosed canopy will need some work to give the model a true early SE5 look. For those that don't want to worry about the adjustments, it will fit "as is" onto the supplied fuselage without alteration.

Of course the easiest way to have an accurate model of this aircraft "out of the box" is to just choose the option without the "greenhouse".

This kit will certainly make an interesting stable mate for Roden's SE5a and as the box says…
Recommended for experienced modellers.


---
Thanks to Squadron.com for the review sample.
---
Review and Images Copyright © 2004 by Robert Baumgartner
Page Created 24 February, 2004
Last updated 24 February, 2004
Back to HyperScale Main Page
Back to Reviews Page