Tupolev Tu-160 "Blackjack"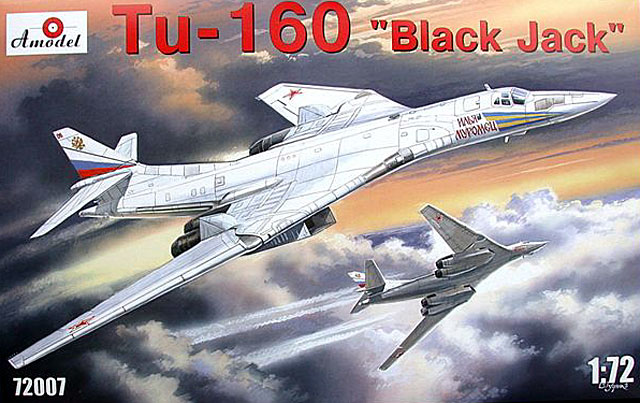 Amodel


HyperScale is proudly supported by Squadron.com
S u m m a r y

Catalogue Number:
72-007
Scale:
1/72
Contents and Media:
See Text
Price:
Pre-Order Price USD$195.00 Obtained from Linden Hill Imports
Review Type:
First Look
Advantages:
Epoxy glass construction overcomes wing droop problems; improved surface details and engraving; petite injected details; decent instructions.
Disadvantages:
Time required for cleanup due to hard epoxy parts; some flash; ; flat-finish decals
Recommendation:
Recommended to experienced modelers, but finicky Tamiyagawa assemblers need not apply!
Reviewed by "Bondo Phil" Brandt
The Tu-160 "Blackjack" was the Soviet Union's forceful response, albeit at least three years later (1977), to the B-1. Unlike the B-1 development which was constantly under intense financial and political scrutiny (including program cancellation at one point), the Blackjack design team enjoyed no such restrictions; after all, the Cold War was still in full stride.
The result was a strategic weapon system that, although bearing an uncanny physical resemblance to the Bone, was superior in most aspects with the notable exception of avionics and penetration aids (read EWO). That is, the Blackjack's airframe is approximately twenty-five percent larger; power is approximately two and one-half times greater; maximum speed is almost twice as much (Mach 2 capable because of variable intake geometry); and range is over twice that of the Bone!
Further, the Blackjack was designed from the outset to carry conventional as well as nuclear weapons; the Bone's expensive CMUP conventional weapons upgrade came only after Gulf War I.
The breakup of the Soviet Union almost fatally affected Blackjack operations, not to mention series production. First, the newly independent Ukraine demanded big bucks for its no-longer-needed Blackjack fleet. A settlement was finally reached, the airframes were flown to Russia and treaty scrapping of early airframes began, partially funded (at least eight million dollars!) by the U.S. Today's Tu-160 fleet numbers but sixteen active aircraft, only one-fifteenth of current Bone assets.
This is a BIG airframe, as the picture of the Monogram Bone overlaid on the Blackjack shows.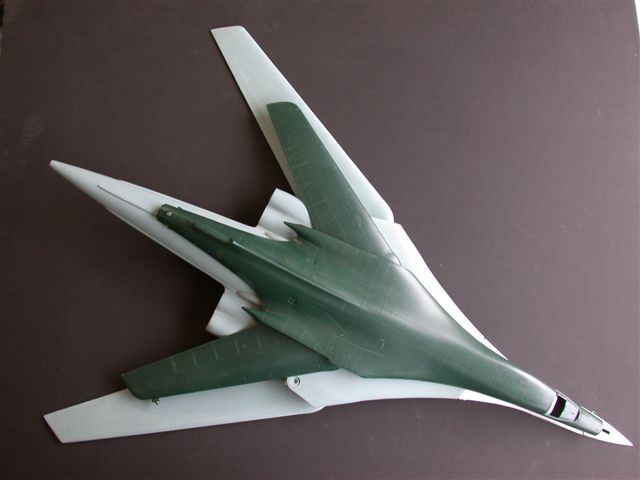 Ukraine-based Amodel has really picked up the pace with this, the latest in the "Monster" series of limited releases (72007). Such a large airplane dictates the use of Amodel's characteristic epoxy glass fuselage and, in this kit, epoxy glass wings as well.
With the well-documented wing strength issues of the huge Revellogram 1/48 Bone, Amodel's epoxy glass method seems to be a thoughtful solution.
---
Molding
Amodel has definitely picked up the pace as far as surface quality and engraving of the epoxy glass components. There are significantly less panel line flaws, as there were in the Bear kit, and the surfaces seem much smoother. Overall molding -- there are no less than twenty-four sprues! -- is decent; slightly "soft", with very little if any, flash and typical larger spigots to cut and sand off; I saw only a couple of sink marks. Some very petite parts are well-cast but will need care when separating from their spigots.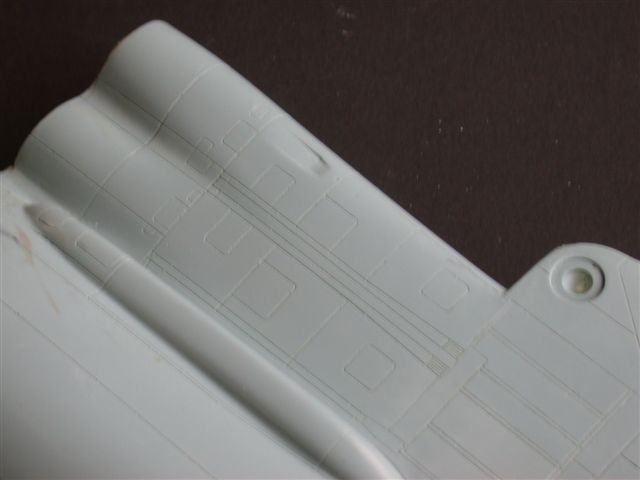 Engraving of injected components is excellent, as good or better as what we've come to expect from other limited production kits.
Bondo hasn't had an opportunity -- he just received the kit today -- to check fit, although experience with three other Amodel releases tells me there probably will be some areas that will need adjustment. But, as I've mentioned before on HyperScale, that's just another day at the office here at Bondo Industries.
Click the thumbnails below to view larger images:
---
Fuselage
The main fuselage consists of the customary Amodel monolithic epoxy glass layup, with halves epoxied together at the factory. As with the Tu-4 "Sotka" kit, there are some large areas that will need to be razor-sawed out to allow gear bay, intake trunk and wingsweep mechanism insertion. The forward eight inches of fuselage is done in injected halves, as are the multipiece, built-up forward sections of the variable jet intakes. If desired, the refueling receptacle may be displayed open with the probe erected.
---
Cockpit
The cockpit components are better than some previous Amodel releases: fairly petite instrument panels, sidewalls, bulkheads and consoles. Raised details are just about right, judicious drybrushing should provide the proper degree of cockpit "busy-ness." K36 seats each consist of five parts, and harnesses are molded in. The seat detail is somewhat soft, but it's not really a big thing since, unlike the "Backfire C", the crew position hatches only open upon ejection; the crew enters up through the nosegear well. The canopy has been cast in one piece, has the same fine engraving but is somewhat thicker and not as clear than those of Tamiyagawa; but it's certainly not grossly done.
---
Engines
Injected compressor faces are inserted up through a sawed-out slot in each engine area. Burner assemblies are seven-piece, with no annoying seams to fill. Depth will be about two inches.
---
Wings and Tail
As covered above, the wings are strong, complete units of hand-laid epoxy glass. One wing has a small, raised bump which will have to be sanded off, although with the overall white paint scheme, the discrepancy may just blend into the background!
Two injected "glove" assemblies must be CA'ed onto the wings, and the wings are then connected with a sweep mechanism.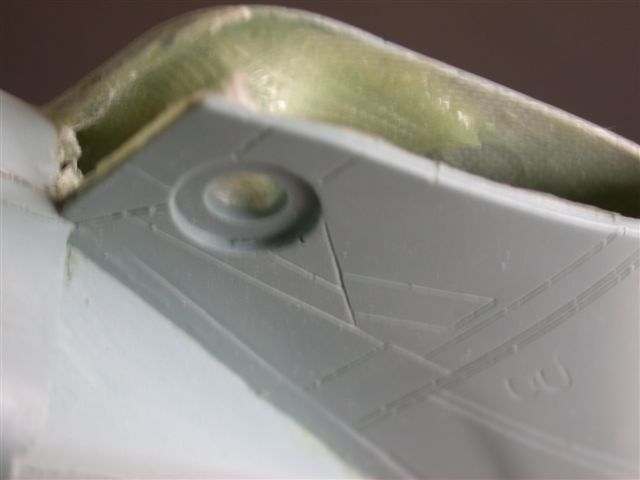 A three-part injected hinge pin - much like the real thing - anchors each wing to the carry-through area.
Tail flying surfaces are injected, with all-pivoting vertical fin and slabs.
---
Landing Gear
Finely cast, multipiece struts and six-wheel bogies look great, but will again need careful separation from sprue and some flash cleanup.
Amodel has gone with separate tires and hubs which will make painting the fourteen wheels a breeze. Each maingear wheel bay is built up of eight parts and is sufficiently "busy."
---
Weapons
Since the Blackjack carries all weapons internally, no weapons or bays are included.
---
Decals
The Blackjack fleet has always sported an all-white color scheme with large splashes of color fore and aft. Each aircraft is named, in large, red Cyrillic script, for a famous Russian. This kit (Red 06) honors Il'ya Muromets and is only the second production Tu-160 to be named.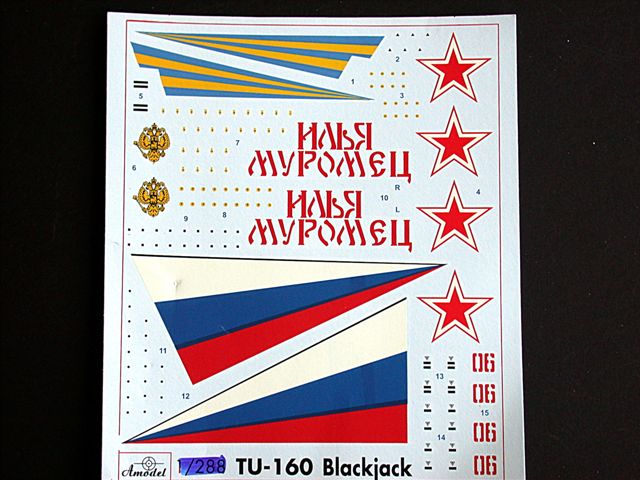 Complete markings, including many, many tiny stencils are included, although all are done in the annoying ESCI-type flat finish.
Bondo loves Amodel's eclectic spirit!
Regardless of the added labor required, that's the fun of this hobby. Regardless of the not-small kit price, few firms have seen fit to do these important Cold War participants.
Recommended.

---
Review and Images Copyright © 2003 by Phil Brandt
Page Created 17 November, 2003
Last updated 16 November, 2003
Back to HyperScale Main Page
Back to Reviews Page